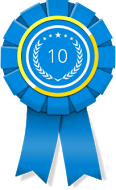 SAN FRANCISCO, Calif. (PRWEB) February 14, 2017
Established ranking organization 10 Best Design has announced its February 2017 Best Web Design Firm award winner: Big Drop Inc. This is a new award that will be given on a monthly basis to the top Manhattan website development businesses.
San Francisco-based 10 Best Design utilizes the experience and expertise of professionals from all over the United States to find and evaluate companies specializing in various digital services and determine which are the best of the best. While the organization has a financial relationship with its clients, only the highest-performing and most highly regarded companies are allowed on the list. Since 2012, 10 Best Designs has grown to more than 20,000 users every month and has become a widely recognized leader among awarding organizations all over the world.
The premier spot this month goes to Big Drop Inc, a top web design firm that is built on the idea that every client has something to share with the world, and their design and development teams can help them accomplish this. The list of clients that have benefited from the outstanding services provided by Big Drop Inc include companies in the sporting, manufacturing, technology, and retail industries.
Blue Fountain Media also made the February ranking of top Manhattan website development businesses. The company specializes in giving existing established clients, such as Sharp, AT&T, IBM, Toys R Us, and Walt Disney, fresh new digital looks. Blue Fountain Media strives to help its clients capture a new generation of consumers.
Another leading web design firm is Ruckus Marketing. The dedication exhibited by the talented professionals at Ruckus Marketing has earned the company a third-place finish for the February award. The company's commitment to helping each and every one of its clients succeed at the highest possible levels has led to greatly deserved success.
All of the companies recognized by 10 Best Design have earned stellar reputations within their industry for providing outstanding customer service and innovative web design for a wide array of clients in various fields. The evaluation process for these companies is thorough and based primarily on verifiable statistics that demonstrated each organization's ability to provide clients with the best in web design and development.
For more details about this month's winners, visit http://www.10bestdesign.com.