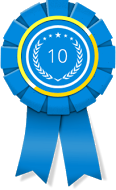 SAN FRANCISCO, Calif. (PRWEB) January 26, 2017
San Francisco-based 10 Best Design recently present awards for the top ten best web design firms in Seattle, highlighting Blue Fountain Media and Baralt as leading contenders for January 2017.
10 Best Design employs people from around the world who have years of experience doing things like online branding, app development and web design. They even have a background in various coding languages such as Ruby on Rails and CSS. The company gives out a variety of awards other than just Web Design Awards, but also the best in eCommerce design, custom design and more. Their skill and experience gives them the credentials to put together the new monthly award of the Best Web Design Firms.
Baralt Design was number two out of ten top Seattle web design agencies for 2017. Based out of Seattle, Washington, the company has years of experience as one of the top web design companies in the city. What makes Baralt Design a Top Seattle Web Design Agency is their commitment to treating all companies with real respect and genuine consideration. That paired with their knowledge of great web design makes them an amazing company for clients to work with. They have worked with small budding businesses to Fortune 1000 companies to make excellent web pages that capture their target audience and keeps them coming back. They even offer search engine optimization services to help keep their clients' web pages at the top of search engine results.
Blue Fountain Media is deemed the Best Web Design Firm by 10 Best Design for this round of the awards. The company is based in New York but has an office in Seattle to offer personalized help to the businesses there as well. As a leading web design firm, Blue Fountain Media builds websites and apps that are customized for every client's needs by a team of developers who have years of experience. They also offer a variety of services, such as online marketing and strategy and consulting, for their clients in addition to web design. Their web design is top-of-the-line, and because of this they have worked with big-name companies like IBM and AOL.
These two winners of the new monthly award put on by 10 Best Design are only a sampling of the 10 outstanding web design winners. Next month, there will be another list of winners representing the leading web design companies in the industry.
For more information about this month's award winners, visit http://www.10bestdesign.com.