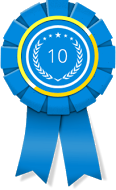 SAN FRANCISCO, Calif. (PRWEB) October 18, 2017
10 Best Design is honored to present the winners of its Best San Francisco Web Design Firm awards for October 2017, announcing Arhue as the leader in this category.
The Top SF Website Design Firm Award has gone to companies that carry a high level of pride in the services that they give to their customers. These companies do everything that they can to ensure that every site visitor potentially becomes a new client. Following is a summary on the top three winners.
Arhue showed leadership and promise because of its extensive line of service offerings and its collaborative efforts in making those services bring the clients to their maximum potential. Being one of the top SF website design firms, Arhue works with their clients every step of the way. They conduct analysis and make sure that the brand image is painting the company in the appropriate light. They have creative specialists who can help to add a dramatic edge to the client's image that will separate them from the completion. Other services available from the company include video creation, brand marketing and strategies.
EIGHT25MEDIA is a leading web design firm that is absolutely amazing when it comes to tangible results. The company has designed hundreds of websites, all which have gone on to produce fantastic conversion rates for the companies. This business provides a full suite of website developmental services as well as maintenance products for businesses that need to stay on top.
KNI is a top web design firm recognized for October due to its expertise and service. It uses innovative tools and practices to ensure that its customers have the opportunity to grow and expand. Its goal is to take businesses that have limited reach and open the doors of possibility to them. KNI works with their clients on a partnership level and offers to "create" together. They create potential, success and continuous growth.
A business owner can have the highest level of confidence in what any of these top contenders can do. 10 Best Design will be releasing a new list of winners next month, as this will be an ongoing award. What this means for web design companies is that they must continue to provide only the highest level of services to all of their current customers. They must also continuously work hard to bring new customers on board.
For more details about the award-winning firms, please visit http://www.10bestdesign.com.