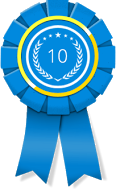 SAN FRANCISCO, Calif. (PRWEB) March 28, 2017
10 Best Design is honored to present the winners of its Top Toronto Web Design Company awards for March 2017, selecting Jam3 as the leader in this category.
Web design is something that brands in the modern world cannot overlook since the vast majority of the market has moved to an online location. Brands that want to continue to survive must adapt to the changing world, and targeted web design built to capture a larger audience is the best way to do so. In Toronto, there are a number of web design and digital marketing agencies that operate to serve the needs of businesses both great and small, but which of those agencies have the ability to provide world-class services at the top of their field?
The experts at 10 Best Design strive to answer that question with up-to-date information at the start of every month. And they do so with comprehensive lists of the top 10 winners in each of their categories, including web design. They start by comparing and contrasting the primary and secondary aspects of every top-tier firm, and they do so with algorithms designed to balance these features. The results shift slight every month in response to subtle changes in the market, and the winners for March 2017 are described below.
Jam3, the best Toronto web design company for March 2017, is an agency that focuses on a number of different digital marketing areas, including interactive film, data visualization, and even virtual reality. Their advanced digital products are completely state-of-the-art, and that allows them to let their creativity run freely. They have won many awards for their stellar development and design skills.
iMedia Designs is the second-best web design firm for March 2017. As a leading web design firm, iMedia Designs is a fully comprehensive agency that provides custom solutions for brands trying to increase the recognition and value of their business. They have worked with a number of prominent brands, and they are able to offer proven results.
ZopMedia earned the third spot in 10 Best Design's ranking of top Toronto web design companies. When it comes to web development and design, there are few agencies that can beat the amazing quality of ZopMedia. This agency deals with social media marketing, Magento web design, and responsive web design, among other things. As one of Toronto's leading digital marketing firms, ZopMedia is widely respected.
To learn more about the winners for the month of March, please visit http://www.10bestdesign.com.