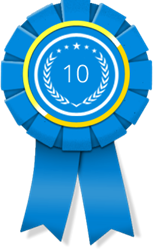 NEW YORK, N.Y. (PRWEB) October 20, 2015
Prestigious awards organization and website 10 Best Design recently issued a new monthly award for the best web design firm. As part of its selections for the top website design agencies for October 2015, 10 Best Design choose New York City-based Big Drop Inc.
As the top web design firm, Big Drop Inc. provides detailed website design packages that are often used by businesses in the Big Apple area. Search engine optimization (SEO) is one of Big Drop Inc.'s biggest specialties. When a business purchases an extensive website development package from this full-service company, it receives comprehensive multimedia production assistance, as well. The firm also is talented in creating promotional videos for their clients. When Big Drop Inc.'s professionals make websites, they often employ compelling animations.
Blue Fountain Media is another one of New York's leading website design agencies. As 10 Best Design's second-finest choice, Blue Fountain Media truly lives up to its reputation of superb publicity work. The digital marketing firm is extremely well-versed in key areas such as mobile development, web development, innovative design and internet marketing in general. Blue Fountain Media has given its talents to many clients that have strong reputations. These clients are NASA, AT&T, HarperCollins, the NFL and AOL, to start. The interactive agency has been mentioned by first-rate outlets including USA Today, The New York Times, Bloomberg BusinessWeek, the Washington Post and finally, The Wall Street Journal.
Maxburst is a web design firm that's located on Farmingdale, a village that's part of Long Island, New York. A full-service top web design firm, Maxburst was launched in 2003 and has been going strong ever since then. Although Maxburst is situated in a quiet and suburban locale, it's just a brief trip away from the action that New York City has to offer. When the Maxburst team works on website designs for their clients, they are heavily influenced by the energy and vitality of all things New York-related. Maxburst offers web design assistance to clients of all sizes.
The other website design firms on 10 Best Design's new list are Old City Press, EIGHT25MEDIA, Dotcomweavers, SocialFix, Forix Web Design, Dotlogics and Kohactive. These agencies are located in cities such as Chicago, Illinois; Portland, Oregon; and San Francisco, California.