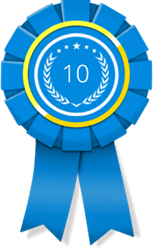 New York, N.Y. (PRWEB) January 21, 2016
The top 10 web design firms for January 2016 have been named by 10 Best Design, a company that ranks web development companies. This month's award is a new announcement for 10 Best Design.
Ranked as the best web design firm on the January 2016 list is Big Drop Inc., based in New York, N.Y. The firm is described as a group of forward-thinking, fast-acting web designers and developers who help clients to attain an effective online presence with lightning speed. The firm develops websites that are strong throughout and are optimized for cross-compatibility and conversion.
In second place is Blue Fountain Media, also based in New York City. Being a leading web design firm, Blue Fountain Media creates sites that reflect an urban sophistication that comes from its location in Manhattan, according to 10 Best Design. An interesting aspect of this firm's design is that it uses open-source tools, such as Drupal, WordPress, Joomla and Magento to customize its administrative dashboards.
Also based in New York City is Maxburst, which occupies the third position in 10 Best Design's line-up. Maxburst is a top website design firm that uses technology that renders coding and scripting less complex so that developers are able quickly to set up web hosts and servers. Maxburst uses open-source technology that offers potential for growth.
The top firms were chosen by 10 Best Design's team of designers, developers and marketers from companies around the world. The team ranks web development companies by assessing all companies, both good and bad, that submit their information to 10 Best Design. By using its team of experts to conduct its in-depth research, 10 Best Design's analysis narrows the field, making it possible for those seeking the services of web designers to choose from the best that are available without having to spend time shopping around and conducting the research themselves. The firms are assessed based on a wide range of qualitative and quantitative information, including technical and design skills, ability to meet deadlines, and overall performance. Full details of each top website design firm are given so that those companies interested in using their services can assess their merits and their suitability for their requirements.