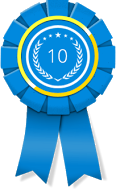 NEW YORK, N.Y. (PRWEB) March 14, 2016
10 Best Design is excited to present its new Best Web Design award to the first group of recipients, who represent true leaders in their industry. March 2016 marks the first month of the new award.
The top website design agency award goes to Big Drop Inc. in New York, New York. The second-place award recipient is Blue Fountain Media also in New York City, and the third-place award recipient is Maxburst of Farmington, New York. Each of the top recipients has stellar rankings, according to 10 Best Design.
10 Best Design is a team of leading web design and online branding veterans. They use various qualitative and quantitative measures to rank leading web design companies in the industry. The professionals at 10 Best Design recognize that there are some companies that stand out in the web design industry. As a result, they have created the Best Web Design Firm Award for the top-ranking web design companies in the industry.
As the top web design firm, Big Drop Inc. employs a team of innovative and creative thinkers who understand the impact that web design can have on their customers' bottom line. They offer an array of services, including branding, animated video production and marketing. Big Drop Inc. uses their creativity to develop visually-appealing and interactive web designs for their clients. They use a simple process of research, design and testing to help their customers achieve their web design and marketing goals.
Leading website design agency Blue Fountain Media has a list of impressive corporate clients, including Disney, Girl Scouts, P&G, Elizabeth Arden and Kaplan Test Prep. When their team of professionals works with clients, they keep the bottom line at the forefront of their minds. With their creative design and online marketing solutions, they help customers increase web traffic and customer referrals.
Maxburst is also among the top website design agencies that made 10 Best Design's list. It provides an array of services such as web hosting, web design, search engine marketing, social media marketing and company identity. Since 2003, Maxburst has worked with clients to improve their web presence and develop strategic relationships through their services. Maxburst partners with clients to create innovative web designs using cutting edge technology.
10 Best Design has developed a formula that they use to rank the recipients of the best design awards. The factors used in the ranking are proprietary analytics, traffic ratings, customer reviews, online research and previous accolades.
For more information, visit http://www.10bestdesign.com.