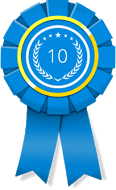 NEW YORK, N.Y. (PRWEB) May 23, 2016
10 Best Design is excited to release its newest award: Best Web Design Firm. The winners for the month award include Big Drop Inc., Blue Fountain Media and Maxburst, which symbolize the industry's leading providers.
Located in California, 10 Best Design consists of judges who come with up rankings of the best companies that provide Web design service in the United States and worldwide. This month, the experts have created an extended new list featuring their candidates for the Best Web Design Firm.
Big Drop Inc tops the list of the best web design firms selected by 10 Best Design. Serving the wider New York metropolitan region, Big Drop Inc is recognized for its various achievements in custom Web design that caters to diverse clients ranging from corporations to small businesses. This digital agency empowers its customers to manage websites that run on open source platforms. Big Drop Inc often selects content management systems that come with infinite possibilities in customization and much more. Big Drop Inc also offers technical support especially for domains that require a lot of disk space in order to store databases.
Claiming the number two spot on 10 Best Design's rankings is Blue Fountain Media. This is also a New York City-based agency that provides a wide range of online solutions. As a leading website design agency, Blue Fountain Media takes meticulous steps to build Web pages from the foundation up. This Web design company likes to create multiple layers that provide the necessary support for a comprehensive website. By using a combination of codes and scripts that are considered to have open source licensing, Blue Fountain Media launches responsive domains that adapt to changes on the Web.
Maxburst proudly takes third place in the best Web design category established by 10 Best Design. Unlike the other two agencies previously mentioned, Maxburst is actually based in a small and quiet setting outside of New York City. A top web design firm, Maxburst has its loyalty to the people of Long Island. Therefore, it is only natural for Maxburst to close deals with small businesses that mostly cater to a local audience. Maxburst follows the traditional path toward open source Web development. For example, Apache and Linux systems are primarily installed on Web servers that support websites of managed clients. Additionally, this Long Island-based company extensively uses PHP scripts to activate dynamic features on Web pages that are responsive and adaptive for mobile users.
To learn more about this month's award winners, please visit http://www.10bestdesign.com.