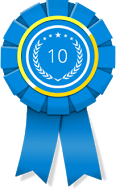 NEW YORK, N.Y. (PRWEB) November 23, 2016
Leading awards organization 10 Best Design recently selected the winners of its November 2016 awards for Best Web Design Firm, naming Blue Fountain Media and Maxburst as the top contenders.
There is great demand for top-tier web design firms in the digital marketplace, and it can sometimes be difficult to know which firms are the best and which ones are simply average. That's why 10 Best Design has created a monthly ranking that awards the top spot to the industry's leading web design firms. The rankings are updated every month, which allows consumers to stay on the cutting edge of quality.
10 Best Design uses a proprietary algorithm that calculates the best design firms by ranking them on a scale along several metrics and averaging each score. The result is a comprehensive ranking based on categories like customer satisfaction and available services. Only the best agencies are judged under this system, so the top-ten winners for each month are sure to be at the forefront of their field. The top winners for the month of November are detailed below.
Big Drop Inc, the top web design business based on 10 Best Design's ranking, has the skill and the drive to craft amazing web platforms for just about any purpose. They only employ the most talented individuals in the industry, and their skill has landed them one of the most respected positions in the field of web design. Stunning websites are something that they can't help but create, and they're constantly working to improve themselves.
Blue Fountain Media is second on the list of best web design firms for the month of November. They have a respectable client list and they work to keep every aspect of their process smooth and constantly flowing. They only use state-of-the-art equipment and design techniques, and they are constantly pushing the edge of what is possible in web design. They provide additional digital services as well.
Top website design firm Maxburst won the third spot on the list of leading website design businesses for November. They are based out of New York, and they have a powerful set of skills and technical ability. They provide aftermarket support for those who use specific networks under their umbrella, which includes Linux, Apache, PHP, and MySQL. They are also well-known for their IT solutions for small businesses.
To learn more about this month's award winners, please visit http://www.10bestdesign.com.