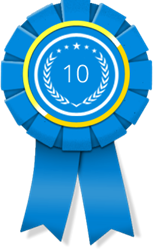 NEW YORK, NY (PRWEB) July 28, 2015
10 Best Design is an esteemed website that regularly reviews the best web design firms nationwide. Recently, the organization made its latest list for the best web design firm choices available to the public.
Big Drop Inc. in New York, New York was their choice among the top website development agencies. Big Drop Inc. is a highly regarded New York City web design agency that is all about aiding their clients in making exciting, modern and imaginative websites that are sure to grab the attentions of their visitors. The goal of these websites is to make sure their clients' desired audiences get strong glimpses into what they have to offer them. Intelligent Internet marketing is the main priority at Big Drop Inc.
Blue Fountain Media, also in New York, New York, has earned second place on 10 Best Design's current list. As a leading web design firm, Blue Fountain Media has a seasoned team of professionals that are all extremely well-versed in website development and design. Their non-stop focus is on helping their clients enhance their online public image. Outside of website design, Blue Fountain Media also provides a diversity of services, such as mobile development, Internet marketing and strategizing.
Coming in third, Maxburst in Farmingdale, New York (Long Island) is a cutting-edge web design firm that puts innovation and fresh ideas above all else. The skilled web developers and designers on the Maxburst staff create attractive, streamlined and contemporary websites that successfully showcase the strengths of their clients. Clients that are in need of websites that are visually enticing and simple to navigate are sure to appreciate Maxburst's work.
The other prominent web design companies on the 10 Best Design list are Old City Press in Washington, D.C.; EIGHT25MEDIA in San Francisco, California; Dotcomweavers in Paramus, New Jersey; Dotlogics in Great Neck, New York; Forix Web Design in Portland, Oregon; Kohactive in Chicago, Illinois; and the Creative Momentum in Atlanta, Georgia. The list also gave numerous companies special recognition. These specially recognized agencies include Inflexion Interactive in Hoboken, New Jersey; Cadre in Atlanta, Georgia; Cofa Media in San Diego, California; Huemor Designs in Long Island, New York; Lounge Lizard in New York, New York; Isadora Design in Manhattan Beach, California; and Lead to Conversion in Hudson, Ohio.