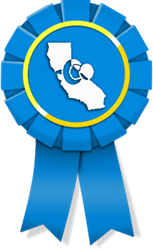 Coming in as the #1 Best SF Web Design Firm is Fluid.
San Francisco, California (PRWEB) May 25, 2014
10 Best Design (10BD) is an awards organization which utilizes a number of qualitative and quantitative variables to rank web design firms from around the world. Their processes have set their rankings apart, allowing them to grow in viewership to over a quarter of a million web searchers per year. In an effort to aid individuals and companies who would prefer to work with the best local firms, 10BD has begun applying their ranking theories to companies in some of America's most prolific cities. As a result, 10 Best Design has just released their picks for the Top Web Development Agencies in San Francisco.
As 10 Best Design has expanded, it has grown into a highly-regarded and well-respected organization. Their rankings encompass web design categories of all sorts, such as Responsive Web Design (RWD), eCommerce development, search engine optimized web design, and mobile app design.
"We know a lot of people are more comfortable working with a local (web design) firm," says a 10 Best Design representative. "It's more comforting to know that you can walk down to their office and knock on their door if you have a question."
This is why 10BD has gone ahead and chosen 10 cities within which to rank the top companies.
Coming in as the #1 Best SF Web Design Firm is Fluid. Based right in the heart of downtown San Francisco, Fluid is a company which works with clients to create a website that will increase a client's visitors and sales. Fluid builds interactive websites that customers can create content on. Clients have included The North Face, Quidsi, Charlotte Russe, and Puma.
Project6 earned the second spot. A company that works mainly with university, foundation, high tech, and retail clients, Project6's staff use their prior experience with design and technology to create websites which properly represent each client. As a result of their superior services, they have worked with the liks of the Gap, Old Navy, Stanford University, San Franscisco Film Society, and Pottery Barn.
The fourth spot on the list went to WebSight Design. Working with small businesses and individual clients, WebSight Design's services include marketing, programming, design, and producing websites that are accessible to mobile applications.
C3i3 took the seventh spot. Based in Alameda, C3i3 gives clients interactive websites and offers a variety of features, including project management, mobile application apps, brand, logo, and graphic design, and search engine optimization. Clients include UC Davis, Costco, San Francisco Employees' Retirement System, Precise, and SFX.
Pereira & O' Dell came in eighth. Recently named by Fast Company as one of The World's Top 10 Most Innovative Companies in Advertising, Pereira & O' Dell mixes traditional and digital marketing trends for optimal results. Current clients include Toshiba, Intel, Reebok, Guitar Center, and The Cheesecake Factory.
The tenth spot went to Propane Studio. With over ten years of experience, Propane makes sure that their clients are getting the most beneficial and powerful marketing tools available to promote their business. Clients include Charles Schwab, Kaiser Permanente, Macy's, and Men's Warehouse.
For a complete listing of web development agencies in SF that were awarded, please visit: http://www.10bestdesign.com/firms/sf/