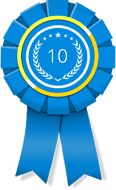 SAN FRANCISCO, Calif. (PRWEB) May 30, 2016
10 Best Design recently released its monthly awards for the best web design firms in the Dallas, Texas area. The May 2016 winners for this new Internet marketing award are Blue Fountain Media, Magic Logix and Ride for the Brand.
Blue Fountain Media topped the list of best Dallas Web design firms because of its commitment to offering cutting-edge, creative digital services that empower the client to connect with and convert customers. Blue Fountain Media has a team of progressive, productive marketing professionals who believe in the power of hard work and client-oriented services. As web design and development experts with extensive industry experience, the techies of Blue Fountain Media are skilled in developing product pages that intrigue online audiences and optimize Internet traffic. Additionally, the Blue Fountain Media professionals work with diligence and dedication to implement the search engine optimization strategies that will take the client's website to the top of search results.
Magic Logix is a group of dedicated online advertisers that thrives on creating dynamic marketing services for clients who are determined to have their brand dominate the online world. As a leading Web design agency, Magic Logix uses an incredibly innovative web design and development process that empowers clients to effectively advertise products to their target market. The techies of Magic Logix optimize sites for cross compatibility, functionality, and engagement. They are also skilled in designing aesthetically-optimized sites that will catch the audience's eye and keep them returning to the product pages over and over.
Top Web design firm Ride for the Brand is another amazing online marketing company that can empower clients to optimize conversion and expand their dimension of Internet sway. To make it happen, the techies of this digital community design impressive websites that generate buzz from online audiences. The sites designed by the Ride for the Brand professionals are optimized for key elements like engagement, functionality, and mobile friendliness. The Ride for the Brand community also offers several other identity-enhancing online marketing services to ensure that the client's brand becomes as visible and profitable as possible.
For more information about this month's award winners, please visit http://www.10bestdesign.com.