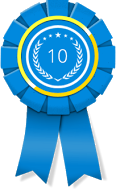 NEW YORK, N.Y. (PRWEB) September 28, 2017
Recently, 10 Best Design unveiled its newest honor, the best web design firm award, to highlight those companies in the industry that have done a remarkable job in the last month. For September 2017, 10 Best Design named Big Drop Inc as the best web design company in the industry.
10 Best Design is known for utilizing a unique and robust ranking system to arrange companies by their merits in specific industries. With the unveiling of the best web development business award, 10 Best Design hopes to help potential customers find the web design firm that is the right fit for their needs.
For the month of September, Big Drop Inc has managed to position itself at the top of the ranking among the best Web development businesses. Based in New York, Big Drop Inc is primarily recognized for its expertise in helping businesses to make the transition from traditional media to digital services. Companies that are interested in developing a cutting-edge website for their brand or are simply looking to update their existing site infrastructure, can be confident in Big Drop Inc's services.
Aside from Big Drop Inc., Blue Fountain Media has managed to emerge as one of the other leaders in the industry. Through its ranking system, 10 Best Design found that Blue Fountain Media is one of the most responsive design agencies in the industry today, and their customer service has earned them significant praise. Also a New York-based top web design firm, Blue Fountain Media has managed to prove time and time again that they not only understand innovative design principles, but that they're also fully committed to the satisfaction of each and every one of their clients.
Leading web design firm Ruckus Marketing has found itself in the top three design firms for this month. With a strong focus on conversion rates, site optimization tactics, and digital marketing strategies, it's easy to see why Ruckus Marketing is considered to be a leader in the industry. Another entry from New York, Ruckus Marketing is the perfect choice for any business that is concerned about developing a professional image above all else.
While these are all excellent choices for any business interested in hiring a design firm's services, they're not the only options available. For more information, http://www.10bestdesign.com to see an entire list of the most popular firms currently in the market today, as well as a thorough explanation of why they were ranked the way they are.