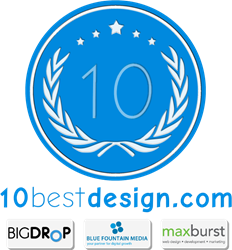 NYC, New York (PRWEB) October 06, 2014
San Francisco based 10 Best Design's October 2014 compilation of the Best Design Web Firms spotlights their selection of the top choices of America's website design agencies. The majority of the recipients are, unsurprisingly, from New York - American's design and innovation mecca. Other locations include Atlanta, Portland, and Chicago.
First on the list of the top web development companies is Big Drop Inc, located in NYC with an office in midtown Manhattan. A company that understands the role smartphones play in today's society, Big Drop stresses s the importance of mobile device compatibility with websites, and was noted for their thorough design process that begins with virtual blueprints of a website, and covers everything from layout to menus, to a back end support with "clear and coherent" coding that includes proper use of HTML with CSS3.
Number two on the list is Blue Fountain Media, also located in Manhattan. Proudly self described as a digital marketing enterprise, Blue Fountain Media assists clients who are seeking professional style websites. They offer services such as content management system integration to blogs, mini sites, and online stores. Their eCommerce solutions as described by 10 Best Design include "utilities such as open source software for shopping cart use." Blue Fountain also specialties in the development of desktop apps and widgets for traditional web browsers like Internet Explorer.
Rounding out the top three spans outside of Manhattan to Farmingdale, New York, where Long Island based Maxburst provides professional quality websites and services to clients in the New York metropolitan area, as well as other states. They were commemorated on their creativity, as well as technical fluency. Their graphic arts skills are paired with coding expertise to produce versatile websites that stand out among today's webpage design agencies.
10 Best Design is a company made up of individuals who have worked in website design for many years, and through their shared expertise, are able to evaluate companies on many quantitative and qualitative areas, producing a list of Top 10 winners that aren't just efficient in their field, but also possess their own unique styles and talents that set them apart from others in the industry.