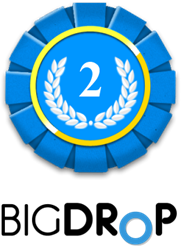 New York City, New York (PRWEB) April 16, 2014
10 Best Design, one of the largest awards organizations for web design firms, announced one of the winners of the Best Web Design Firms awards. Big Drop Inc., a New York City-based web design firm, landed a coveted second-place finish on the list, being cited by 10 Best Design for the way it prides itself on providing websites that not only deliver results but are also elegant and "exclusively creative."
According to Big Drop Inc. executives, eCommerce websites must be both functional and beautiful – and when it comes to building eCommerce sites, the company's talented team realize the best professionals will gather their customer's vision, take it a step further and produce a product that contains the highly coveted "wow factor." Headquartered in a city where "exquisite design" and "uniqueness" is considered the de facto standard, the Big Drop agency not only delivers websites that retain the attention of its target market, but also delivers websites that execute expert branding.
Earning its high ranking on the Best Web Design Firms list, all Big Drop Inc. had to do was let 10 Best Design have a gander at its impressive portfolio in order to solidify its position. The firm produces websites in a variety of industries for both large and small clients, and is always up for the challenge of helping businesses achieve its goals.
Amongst the plethora of powerful clients Big Drop has served are the American Fair Credit Council (AFCC), Law Suit Funding, Premier Data World, Consumer Debt Law, Develop Senegal Company, Get Lender Qualified, U.S. Car Buyers, Yeffet Mesika Enterprises, Gravity Videos and Chef Needs.
Big Drop Inc. shared top ranking spots on 10 Best Design's Best Web Design Firms list with Washington, D.C.-based CLiKZY Creative and New York-based Blue Fountain Media. CLiKZY distinguished itself among D.C.-area web marketing firms through the collective talent of its team, with 10 Best Design citing the firm's diverse range of services intended to "maximize its clients' websites' visual appeal" and "effectiveness in design."
Blue Fountain Media, also headquartered in New York like Big Drop Inc., is an online marketing and design firm cited by 10 Best Design for its delivery of "remarkable solutions" to its clients. By developing a unique strategy for every project, each client of Blue Fountain Media's receives a "results-driven product" that is guaranteed to take their business to the next level.