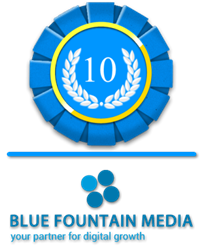 New York City, New York (PRWEB) April 14, 2014
Blue Fountain Media of New York City is ranked the #1 Best Web Design Firm as announced by 10 Best Design, one of the internet's largest web design firm ranking, reviews and awards organization. A full-service digital agency, BFM offers a 360-degree solution digital approach with expertise in strategy, creative design, web and mobile development and online marketing.
The firm rankings are determined by qualitative and quantitative variables that include client research, online research, reviews, previous accolades, traffic, search engine optimization rankings and analytics. Companies like BFM are also honored due to stellar customer service.
In addition to its top ranking in the category of Best Web Design Firms, BFM is also ranked in the top 10 category of Best eCommerce Web Designers. BFM has also been recognized as a top 10 digital agency worldwide and has been applauded by several industry organizations for its work. Its winning formula for successful performance combines a focus on clients' business goals, customized solutions, enhanced brand loyalty and measurable results. Case studies from an impressive client list show increased metrics in all areas of online and social media marketing for profit and non-profit businesses.
Other companies honored as one of the best web design firms are Big Drop Inc. of New York and CLiKZY Creative of Washington D.C. Headquartered in San Francisco, Ca., the 10 Best Design Team is staffed with industry experts in online branding, web design, development and search engine optimization.
Blue Fountain Media employs more than 200 persons in offices around the world. Learn more about the company at bluefountainmedia.com.