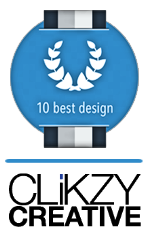 Washington D.C. (PRWEB) September 06, 2013
California-based 10 Best Design, a team comprised of individuals from around the U.S. who boast experience in online branding and web development, recently announced the winners of the top three spots in their Best Web Design Firms Awards category. Coming in first place was Buildrr, one of the top three web design firms for several months in a row now, while coming in second and third places were CLiKZY Creative, providing design services out of the Washington D.C. area, and The Creative Momentum, based out of Georgia and providing clients around the world with custom web design services, respectively.
Striving to provide their clients with design services to meet all of their wants and needs, the first-place-ranked Buildrr is based out of Syracuse, New York and specializes in not only web development but marketing websites to effectively compete in today's marketplace. The firm has proven its strengths in the areas of website traffic, design scheme implementation and more. Since June of 2013, CLiKZY Creative, based in the U.S. capital, has been enjoying the number-two ranking in the 10 Best Web Design Firms awards by 10 Best Design providing services not only to local clients but those from around the world. From small start-up firms to large scale operations, the CLiKZY Creative team works with each of their clients to build the "website of their dreams."
As ranked number-three by 10 Best Design for Best Web Design Firms on the internet, The Creative Momentum specializes in additional design and development services such as mobile designs, media, search engine optimization and marketing, UI/UX and more. The firm, based in Georgia, prides itself on assuring their clients they can "plan, design, test and launch" their websites all under the same roof when going with Creative Momentum. Two recent examples of The Creative Momentum's work has been websites for South Maple Apartments and My Company Schedule.
With experience in PHP, JS, CSS, HTML and more, the 10 Best Design team consists of experts in online branding and search engine optimization, qualified to rate and review the best web design firms based on a large number of qualitative and quantitative ranking points.
For further information, visit http://www.10bestdesign.com.