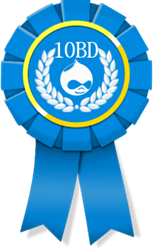 San Francisco, California (PRWEB) April 16, 2014
10 Best Design has named its top Drupal web design firms for April 2014. The top three Best Drupal Web Design Firms are Forix Web Design out of Portland, OR, The Creative Momentum out of Atlanta, GA, and CLiKZY Creative out of Washington, DC. 10 Best Design is an esteemed awards organization that recognizes web design companies on a monthly basis. This particular award is for the best Drupal website, which involves utilizing strong content management systems for websites that are easy to edit, design and customize.
The honor for Best Drupal Web Design in first place goes to Forix, made up of 60 developers, designers and UX architects that all work together to provide creative websites for clients using Drupal and other technologies. This company has also been recognized several times before for its work in SEO and responsive web design. Offering ecommerce systems, interactive mobile apps, web design and development, and digital marketing, Forix is a contender in the web creation space. Forix Web Design develops and nurtures branding strategies to enhance web design, resulting in turnaround times of 31 percent and top-notch conversion rates. Thanks to its digital strategy services, users get an increase in email open rates of 46 percent and increased organic SEO ratings. Since its humble beginnings in 2007, Forix has launched more than 765 sites and has received a total of 15 awards.
Next up in second place is The Creative Momentum, a full-service creative agency specializing in custom web design and development for businesses of all sizes in everything from security to healthcare. Services include custom graphic and logo design, content writing, branding, advertising and strategic planning. This fast-paced agency knows how to seamlessly connect clients with new customers online, catering to industries such as high-tech B2B, B2C and consulting. CLiCKZY Creative came in third place with its history since 2006 of ensuring creative web design services thanks to integration of the Drupal content management system. This company offers comprehensive marketing campaigns helping clients attract potential customers online.
The Top 10 Drupal Web Design Companies also include Blue Fountain Media of New York, New York, Cofa Media of San Diego, California, Dotlogics of Great Neck, New York, Southern Web Group of Atlanta, Georgia, intechnic of Chicago, Illinois, Dotcomweavers of Paramus, New York, and Project6 of Berkeley, California, respectively. All have been awarded for their efforts in web design and creation with an emphasis on excellent usage of Drupal, a popular open source content management system.