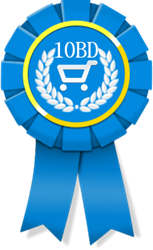 San Francisco, CA (PRWEB) December 28, 2013
CLiKZY Creative, based in Washington D.C., took home the top honors and was recognized as the top e-commerce design firm by 10 Best Design. CLiKZY Creative has been serving clients since 2006, offering website design and branding. Design professionals at CLiKZY have launched more than 250 high-quality website design projects.
Web design firm Buildrr was awarded second place in the top 10 rankings. The firm, based in Syracuse, N.Y., earned recognition not only for excellent website design but also for custom product videos for e-commerce clients.
Forix Web Design of Portland, Ore., rounded out the top three rankings. Forix specializes not only in web design, but also offers clients assistance in marketing their website to increase sales volume.
Also awarded for excellence in eCommerce web design were fourth place to The Creative Momentum, a design, marketing and branding firm; fifth place to Hudson Horizons, a firm offering mobile, social marketing and search engine optimization solutions; sixth place to Southern Web Group, who offer graphics and search engine optimization; seventh place to Cofa Media, creators of functional art and interactive media; eighth place to Kohactive, a firm that specializes in simplifying customer transactions on e-commerce sites; ninth place to High Level Marketing, whose team focuses on building a site based on the end customer; and tenth to Skuba Design, a firm that specializes in high-quality graphics.
The industry professionals at 10 Best Designs, which include experts in online branding, web design, development and search engine optimization, ranked the top e-commerce web design firms based on a wide variety of data points, processed through their proprietary analytic system.