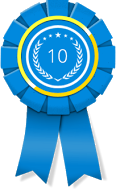 NEW YORK, N.Y. (PRWEB) August 22, 2016
Recently, 10 Best Design released its monthly rankings of the industry's 10 best design firms. The top-ranking firm in this category was Big Drop Inc., along with two other worthy contenders.
The winning firms are ranked each month based on a number of statistics that determine the quality of the firm. 10 Best Design only accepts the most prestigious firms, and they are judged on a quantitative assortment of factors. The top three winners for August of 2016 have been reviewed below.
Design firms are one of the most helpful service branches a business can employ, but there are so many firms out there that it might not be easy to tell which is the best. That's why 10 Best Design has made it their mission to compare the best design firms in the industry each month in order to keep customers up to date on the most influential and prominent design firms on the market.
The winning contender among the ranking of the best web design firms for the month of August in 2016 is Big Drop Inc, a premium firm located in New York City. They have offered their incredible services for years, and they provide consultations for existing sites that may need a tune up. They work hard to maintain a cutting edge of technological superiority over their competitors, which has allowed them to innovate new methods of generating high-quality web platforms.
Yet another leading web development firm, Blue Fountain Media is ranked second in the list of the best design firms for August of 2016. Their specialty is working with mobile devices and websites that function primarily on mobile platforms. They focus on creating captivating content and utilities that will keep people engaged with a site long enough to convert them into a paying customer.
The third company on the list for August of 2016 is Maxburst, a premier web design firm located in New York. In its role as a premier web design firm, Maxburst is well versed in a number of modern development formats like Linux, PHP, Apache, and more. They are able to create streamlined websites that run by having their individual parts become fully compatible. Maxburst has made great developments in the world of open-source web-based software, and they will continue innovating new ideas.
For more details concerning this month's winning companies, visit http://www.10bestdesign.com.