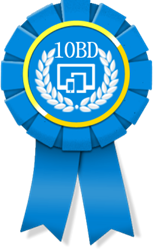 San Francisco, California (PRWEB) July 28, 2014
Websites that are built on responsive platforms have fluid layouts that can work seamlessly on smartphones, tablets, laptops and desktops. Website layouts are normally designed on a full screen PC monitor and not all layouts are compatible with mobile devices. Responsive website design professionals developed a method to automatically adjust webpages in any screen resolution for optimal display. This month, 10 Best Design has released its ranking of the Top Responsive Web Design Firms.
For responsive website design agencies, securing the highest ranking could bring in more clients and business into their companies. The best RWD companies obtained a number of qualitative and quantitative ranking points for their current placement. The design agencies are subjected to 10 Best Design Analytic Review Algorithm for this coveted internet ranking. A wide range of variables was employed in the review ratings that include data on website traffic and SEO status, positive reviews and previous accolades, client and online research and propriety analytics. The top RWD companies are Big Drop, Inc. and Blue Fountain Media of New York, and the Creative Momentum of Atlanta.
Big Drop, Inc., the #1 responsive website design company prides itself with a team of competent professionals that does not only create remarkable designs but also understand the attributes of effective online marketing. While the company's unique approach to website design is aesthetically and structurally sound, it is business oriented as well. Websites designed in the tradition of Big Drop, Inc. effectively respond to keyword density and search engine trends providing their clients a lot of opportunities to grow their business by converting unique hits to returning costumers.
Leading responsive website design agencies like Blue Fountain Media and Creative Momentum specialize in content creation that integrate operational marketing concepts with state of the art webpage designs as well. The design teams at Blue Fountain Media have worked with big corporations and well known brands delivering products and services in multiple platforms and cutting-edge solutions. They build websites designed to perform in different types of digital media and websites created to increase conversion rates and overall traffic. On the other hand, Atlanta based Creative Momentum offers customized website designs that can maximize their clients' return on investment. The steady rise in mobile browsing challenged this company to offer responsive website design for business performance and search engine optimization.