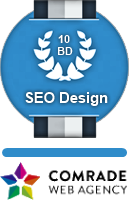 Chicago, Illinois (PRWEB) September 17, 2013
Based in California and comprised of individuals from around the U.S. who boast experience in online branding and web development, 10 Best Design recently announced the winners of its Best SEO Design Firms awards. Winning the coveted first place prize was Chicago-based Comrade Web Agency, cited by 10 Best Design for its consistency, impressive results and knowledge and use of SEO tactics to improve its clients' exposure.
With a team of professional web developers, copywriters and marketing specialists, Comrade Web Agency consistently helps to improve profitability for all its clients. Further, boasting a young, hip and ambitious team eager to utilize their skills and talents to create websites any business would be proud of, Comrade guarantees top results for a project, utilization of the latest technologies and a professional attitude that exudes respect, listening, brainstorming and project completion – on time.
In second place of 10 Best Design's Best SEO Web Design Firms awards was Webfor, a Portland, Oregon-based firm specializing in website traffic and ranking increases, while coming in third was re:think, based out of Ramsey, New Jersey and offering expertise in "revamping websites while owners reap all the benefits."
Weighing many variables, 10 Best Design is able to weed out design and development firms which have fallen behind or cannot provide adequate services, making them renowned in web design arena.