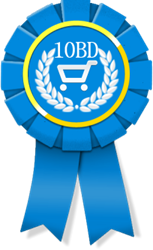 San Francisco, California (PRWEB) April 21, 2014
The latest iteration of the awards for the top e-commerce web design companies have been announced by 10 Best Design. These companies have been chosen for their superior ability to implement e-tailing systems that allow users to buy goods and services smoothly on the web.
10 Best Design is an awards organization that reviews important information about web design companies which can cultivate strong a web presence for clients. Statistics are carefully drawn from qualitative analysis and quantitative variables to form a list of the top eCommerce providers. These companies have proven true dedication to their craft, establishing trends rather than simply following them.
Recognition as the Best eCommerce Web Design Firm goes to CLiKZY Creative of Washington, DC. This company serves businesses and individuals on a global basis and has been in business for more than eight years. CLiKZY specializes in dynamic website design, web development and online marketing. They have become known for designing dynamic content and unique elements, and they are skilled at offering comprehensive marketing campaigns that keep visitors coming back to their client's websites. As part of its offerings, this firm offers superior e-commerce services, steadily gaining exposure for utilizing proven techniques.
The second spot goes to Blue Fountain Media of New York City for providing its clients with online marketing and design solutions through a unique strategy for results-driven project. This innovative agency offers services to anything from start-ups to established Fortune 1000 firms through services like copy writing, SEO, PPC and business analysis.
The #3 ranking is another NYC-based firm, Big Drop, Inc. - where design meets creativity. Through branding, design, and development, Big Drop caters to clients of all kinds, with a focus on superb eCommerce capabilities for websites of all sizes & complexities.
The top e-commerce website design firms range from one through 10, with number one ranking the highest. In 10 Best's list, Dotcomweavers of Paramus, NJ, came in fourth, followed by The Creative Momentum of Atlanta, GA, Forix Web Design of Portland, OR, Dotlogics of Great Neck, NY, Kohactive out of Chicago, IL, Southern Web Group out of Atlanta, GA, and Cofa Media of San Diego, CA, respectively. These are April 2014's best ecommerce web design firms.