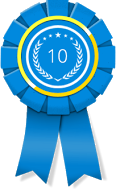 SAN FRANCISCO, Calif. (PRWEB) October 23, 2017
10 Best Design recently selected the winners of its Best Melbourne Web Design Firm awards for October 2017, giving Butterfly the top prize.
Web design is one of the strongest methods for attracting new customers to a brand, but there are so many different web design agencies out there. How can brands know if the agency they are considering is worth the investment? Some firms will go above and beyond the standard line of duty to produce superior results, and others will only scrape by with the bare minimum. To help brands determine which agencies are worth their time, 10 Best Design has initiated a monthly ranking of the top ten best web design companies in a number of different regions.
Those who are near Melbourne would do well to consider this list of Melbourne-based web design agencies. They are ranked by 10 Best Design using complicated algorithms that weigh all the most important aspects of the agency in question. The results are updated every month to keep the market up to date with current information. The winners for October of 2017 can be viewed online, while the top three winners are described below.
Butterfly is the best web design agency in the Melbourne region for October 2017, according to 10 Best Design. This company has a team of professionals who want to help their clients reach new levels of influence and recognition. Their services have been proven effective, and they range from minor aesthetic tweaks to full redesigns. Butterfly has the ability to boost a brand beyond its competitors.
Ranking second on the list of top Melbourne web development businesses for October of 2017 is Digital Pieces. Their goal is to build brand experiences that will engage the audience while intriguing existing customers. The agency understands that customers must be captivated if they are expected to become loyal, returning customers. With advanced tools and intuitive design, Digital Pieces has the ability to improve almost any web presence.
Yoke is a top web design firm that takes design to the next level, thanks to their team of incredible developers and creative designers. While they are aware that aesthetics are important, they tend to focus on creating a singular experience that merges the elements of design with functional components for a smooth, enjoyable overall experience. Using a blend of creativity, management, and advanced technology, Yoke offers world-class web design.
To learn more about each of these award-winning firms, please visit http://www.10bestdesign.com.