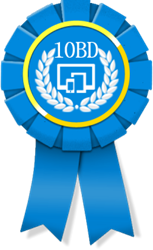 San Francisco, California (PRWEB) April 23, 2014
For April 2014, the top responsive site design firms were unveiled by 10 Best Design. Responsive web design, known for short as RWD, is a form of web development allowing for cross-platform compatibility across all mediums. It utilizes fluid layouts that accommodate the look of a website based on which type of screen it's being displayed on. As such, a website should display evenly across mobile, tablet, laptops and desktops in a seamless manner.
Number one went to Blue Fountain Media of New York City, a company offering services such as business analysis and consulting, information architecture, user experience, copywriting, PPC, SEO, RWD, branding, campaign marketing and content strategy. It accommodates both start-ups and Fortune 1000 companies. Second place was awarded to Big Drop, Inc., also of NYC, which offers innovative web solutions that meet clients' originality. Blending design with responsive web development, this firm designs compelling websites that truly stand out. Its clients include Apex Limousines, Consumer Credit Advocates and Medicare Long Island. The third best RWD company is Forix Web Design of Portland, OR, recognized for its efforts in RWD, SEO, UX, ecommerce and interactive mobile apps. Forix's team consists of a total of 60 web design and web development professionals who work on a one-on-one basis with each client for personalized attention to your responsive web design project.
The rest of the best responsive web design companies from fourth place to 10th, respectively, include The Creative Momentum of Atlanta, GA, Dotcomweavers of Paramus, NJ, Kohactive of Chicago, IL, Dotlogics of Great Neck, NY, Southern Web Group of Atlanta, GA, Cofa Media of San Diego, CA, and Cadre out of Atlanta, GA. These companies have all been recognized as the top 10 firms in RWD for the month of April 2014.
One of the largest awards organizations of its kind, 10 Best Design recognizes the achievements of web design companies all across the globe. As such, it offers many design-centric awards for firms that make their own trends rather than simply follow the crowd. Rankings are based on actual numbers and analyses that compile the best of the best for any given month in any given sector, such as RWD, SEO or ecommerce.