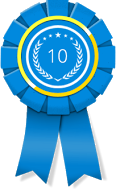 NEW YORK, N.Y. (PRWEB) February 15, 2017
10 Best Design is pleased to announce the onset of a new award category: Best Seattle Web Design Firm. The winner in this category for February 2017 is Blue Fountain Media, which offers a diversity of services to assist clients.
The new award category helps readers determine which web design and development companies offer the best services. Details about some of the top Seattle web development businesses are provided below.
Blue Fountain Media is the best web design agency, according to 10 Best Design's list of February winners. Blue Fountain Media is a community of dynamic web design and development experts who offer clients diverse marketing services to ensure that their organizations can move forward with skill and speed. In recognizing that more and more people are using electronic devices to access the internet, the professionals of Blue Fountain Media are pleased to offer responsive web design services. These services ensure that all of the business owner's product pages are cross compatible. Finally, the Blue Fountain Media representatives work with diligence and determination to ensure that the client's interests and ideological slant are always the guiding force determining the shape and substance of the website.
Baralt Design is a top-notch web design firm whose professionals are committed to getting results for their clients. The cutting-edge approach that the Baralt Design representatives maintain ensures that the client's online presence is relevant in contemporary contexts. Additionally, the Baralt Design representatives maintain a detail-oriented approach that involves perfecting each aspect of the client's website. This includes functionality, conversion, and aesthetic appeal. Finally, the professionals of Baralt Design excel in maintaining a client-oriented approach to marketing. This approach ensures that the business owner's vision and values will always come first.
Clocktower Media is another business that made the February rankings for top Seattle web development businesses. Clocktower Media is a dynamic marketing organization that offers clients excellent online advertising services to ensure that the business owner's brand grows in power and prestige. The representatives of the firm know the world of web design and development incredibly well, meaning they can put together incredible product pages with skill and speed. Additionally, the Clocktower Media professionals specialize in offering cutting-edge, customized graphic design services that ensure that the client's site is aesthetically appealing.
To learn more about the winners for February 2017, please visit http://www.10bestdesign.com.