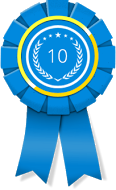 SAN DIEGO, Calif. (PRWEB) March 23, 2017
10 Best Design is pleased to announce the winners of its Best Trade School awards for March 2017, with Jacob Tyler taking the top honor.
Web design is an important aspect of business success regardless of the location of the brand, and San Diego happens to be one of the nation's leading hubs of innovative and technologically advanced web design. The market for web design and digital marketing agencies has exploded in the recent years, and that demand has created a huge number of new and emerging agencies all vying for the attention of the industry. How can brands that are searching for a dedicated and comprehensive web design firm in San Diego supposed to determine which agencies should be sought and which should be avoided?
The answer is through comprehensive rankings such as those provided by 10 Best Design. This organization has made it their mission to update monthly rankings of the top ten web design firms in San Diego. They rank firms based on their prevalence in the market and a number of other metrics, including customer satisfaction and industry reputation. The resulting lists are posted at the start of every month, and the winners for the month of March in 2017 have already been announced. A description of the top three winners for the category of Best Web Design Firm in San Diego are listed below.
Jacob Tyler is the best San Diego web development firm for the month of March. Jacob Tyler is an agency that works hard to build successful brands through targeted campaigns and effective web design. They have been known to work closely with their clients so they can produce campaigns and brand images that are completely in line with the desires of the client.
Top web design firm OP WEB DESIGN also made 10 Best Design's list of winners for March. OP WEB DESIGN takes pride in their ability to offer web design services to brands of all sizes. They care deeply about the final version of every product they make since they are aware that such products are a reflection on them as well as on their clients. They track trends that are related to the industry of their client, which helps increase the effectiveness of each product.
Storm Brain was also honored with top ranking on 10 Best Design's roster of best San Diego web development businesses. By using state-of-the-art technology and advanced techniques, Storm Brain is able to build websites that incorporate marketing strategies of the highest caliber. They consider ever detail when building a digital product for their clients, and they work to find the perfect audience.
For more details about the winners for the month of March, please visit http://www.10bestdesign.com.