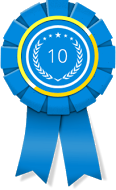 NEW YORK, N.Y. (PRWEB) October 10, 2017
10 Best Design is pleased to announce the winners of its Top Web Design Firm awards for October 2017, with Big Drop Inc taking the top honor.
In order for brands to survive in the highly-competitive business world, they need a comprehensive website that will connect them with their customer base. The best web design agencies will take a look at an existing website and find the optimal ways to improve the site for greater conversions and lead generation. With so many options for web design agencies, how can a brand know which to choose? 10 Best Design hopes to answer that question every month with new top ten rankings of the best web design agencies on the market.
The lists are updated at the start of every month so the industry can have a fully up-to-date view of the top firms, and 10 Best Design uses a proprietary system for weighing the firms based on their performance metrics and client reviews. The top ten winners for October of 2017 have been selected, and the full list of all ten winners is available here. Below are the top three winners from the list.
The best web design firm for October of 2017 is Big Drop Inc, one of the most recognized and recommended top website design firms available anywhere. Their skills are legendary within the industry, and their team has created some spectacular content for the digital landscape. They can build websites that will work for their clients.
In the second position as top website design agency is Blue Fountain Media. It is a cutting-edge member of the digital marketing industry and it uses the most trusted marketing techniques. That philosophy combined with the company's experience and skills result in some amazing websites. Blue Fountain Media can help a brand move above their competitors in the market.
Ruckus Marketing is a leading web design firm that was ranked as the third-best web development agency for October of 2017. They offer the most state-of-the-art web development options, and they can produce dynamic sites with responsive capabilities that make them viewable through a wide range of mobile and stationary portals. This helps their clients reach as many people through as many devices as possible. Not only that, their sites can be optimized for eCommerce. When they set up an eCommerce site, they design it to handle excessive traffic due to growth.
For more information, please visit http://www.10bestdesign.com.