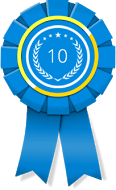 New York, N.Y. (PRWEB) October 31, 2016
Recently, 10 Best Design announced the October 2016 winners of its Best Web Designer Awards. Top contenders in this category include Big Drop Inc, Blue Fountain Media and Huge Inc.
There are so many web design agencies out there that it can be hard to discover the most suitable or the most trusted service provider. In the modern age of digital sales and online landscapes, it is impossible for a brand to ignore using the web to reach new customers. That is why 10 Best Design has started a new monthly ranking system that will provide the general public with an in-depth look at which design firms are the most highly-sought service providers in the industry.
One thing that 10 Best Design understands is that most businesses don't have the time to vet each and every company that they think might be a good fit for their needs. In order to make that easier, 10 Best Design has done all the legwork. They have a complicated system of comparison that uses metrics from every aspect of digital entrepreneurship. A new list will be released each and every month, and the top 10 winners for October of 2016 were announced recently. The top three of those winners are briefly described below.
Big Drop Inc, the top web designer for the October award, continuously makes a name for themselves as one of the best web designer agencies in the industry. They have the ability to craft unique content and digital environments that will keep audiences engaged and returning. They use state-of-the-art techniques and graphical capabilities in order to deliver the best results possible to their clients.
Coming in second on the October list of best web designers is Blue Fountain Media. There aren't many other leading web designer firms that offer better service than Blue Fountain Media. They are comprised of numerous brilliant digital marketers and engineers who are all working seamlessly as a single unit. They can perform multiple forms of website development, including Joomla, Wordpress, Drupal, and Magento. Their digital marketing services are second-to-none, and they extend to content branding, copywriting, and consulting.
Leading web designer Huge Inc has over a dozen offices spread throughout the world. As such, it is considered to be a fully globalized digital marketing firm with a penchant for web design. Huge Inc can work with just about any language to create web pages for nearly any locale.
For more information about the winners in this category, visit http://www.10bestdesign.com