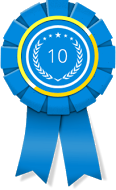 NEW YORK, N.Y. (PRWEB) January 31, 2017
10 Best Design is excited to announce the winners of its Best Web Designer awards for January 2017, naming Big Drop Inc and Blue Fountain Media as two of the top honorees.
The web design market is extremely competitive this day and age. To be the best web designer in the market requires superior services over the worldwide competition. Many companies will offer a wide variety of optional services that include SEO consulting and content creation. That is why 10 Best Design strives highlight the best providers in this field.
Both market share and average online reviews are taken into consideration when making this list of web designers. Users should do their homework on each winner on the list to find the best one that fits their needs. The list will be updated monthly.
The top web designer is Big Drop Inc from New York City. This web design firm is up to date with current trends and they have worked with many small and large businesses. Their team uses a wide variety of software platforms, programming languages and libraries. Each site is creative and unique with personalization for the client's needs. They also have experts in marketing, branding and video production.
Big drop Inc has a very impressive portfolio of local and international clients. They recently produced the e-commerce website for Lily, a flying camera and drone hybrid product. They had also recently created the boxing news website Top Rank. There is a complete portfolio on their official website.
Another top contender for January is leading web designer Blue Fountain Media, which is also from New York. Their web design team has skills in developing commercial, e-commerce and mobile device optimized websites. They also offer services in mobile application development, video production, internet marketing and copy writing. Their web services had been used by NASA, AT&T, NFL, SHARP, Sony, Aol, Martha Stewart, Smarties and other large international companies.
Huge Inc is a web design firm based in New York, and it also has an international presence. Like many top web designers, Huge Inc focuses on providing digital business and integrated marketing solutions. Their web design team concentrates on user experience and creative technology. The company provides SEO and social media management services on top of their web design service. They also developed a platform for automated customer relationship management.
They recently provided web design and social media services for Lenovo to promote their Yoga tablet. They created the new website for Scion from scratch. They even made the interactive mobile site for Sprout, a children's television program.
For more information about this month's award winners, visit http://www.10bestdesign.com.