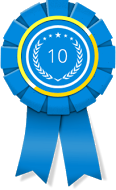 NEW YORK, N.Y. (PRWEB) April 27, 2017
10 Best Design recently recognized the winners of its Best Web Designer award for April 2017, with Big Drop Inc named as the leading company in this category.
Web designers are a dime a dozen in the modern world of online marketplaces and digital platforms. There is no substitute for talent, and the most amazing web design firms can sometimes be lost among the crowd of subpar agencies trying to distract from their superior competitors. How can an individual or business looking for a comprehensive and skilled web design firm find what they need when they don't know if they can trust the resources firsthand? That is what 10 Best Design strives to address.
10 Best Design has started releasing monthly rankings of the best web design firms in the hopes of showing the consumer audiences which firms are worth their time. They make their rankings by weighing valuable metrics from each of the tops firms in the industry, and their complex algorithms then rank the top ten agencies for each month. The month of April has already seen the announcement of the winners, and the top three firms are detailed below. The full list of all ten winners is available online.
Big Drop Inc, which heads the roster of best web designers for April 2017, is an agency that provides a plethora of targeted and world-class digital marketing and web design services. Their practices are oriented to gain results, and they have more than enough experience to ensure their clients get exactly what they had in mind. They have many web optimization techniques that other firms simply cannot offer.
Blue Fountain Media, a top web designer based in New York, ranks second on the list of winners for April. Blue Fountain Media is one of the leaders in the field of digital product development and web design. They have won several awards for their stunning websites, and they have worked with huge brands all the way down to tiny startups. They try to stay humble despite their prowess in the field of digital marketing.
Located in California, EIGHT25MEDIA is the third-place winner for April. As a leading web developer, EIGHT25MEDIA has built a reputation for their ability to boost the visibility and public image of just about any brand. They have a team of the best web designers in the world, and they are deeply proud of their skills.
To learn more about the winning firms for this month, visit http://www.10bestdesign.com.