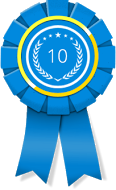 NEW YORK, N.Y. (PRWEB) June 29, 2016
10 Best Design is pleased to introduce the recipients of the Best Web Designer Award. The first-place recipient is Big Drop Inc., the second place recipient is Blue Fountain Media and the third-place recipient is Huge Inc.
This award is a new monthly award that recognizes the efforts of the top three web development companies in the industry. Each recipient has been carefully selected based on several competitive factors including SEO rankings, proprietary analytics, reviews, client research and an analytic review algorithm.
The recipients of this month's award have provided a high level of customer service to each client. Each has made significant strides within the industry, helping clients achieve proven results.
As the leading web developer, Big Drop Inc. of New York City has solidified its place in the web development industry. This company develops effective marketing campaigns that result in remarkable conversion rates. The expert web developers at Big Drop Inc. partner with clients to create unique campaigns that address each client's specific needs. The highly-engaged professionals at Big Drop Inc. have built a solid reputation for implementing proven web development strategies that are highly functional and engaging.
Located in the heart of New York City, top Web developer Blue Fountain Media specializes in print design, content management systems, logo design, branding, SEO optimization, pay-per-click marketing and conversion rate optimization. Blue Fountain Media has developed a reputation for stellar customer service, collaboration and proven results. Blue Fountain Media's impressive client list includes O Magazine, AT&T, Canon and NASA.
Huge Inc. has its pulse on the latest web design trends that increase brand recognition and attract customers for clients. This is why the company was able to grace the 10 Best Design's list of best web designers. The professionals at Huge Inc. help clients improve the efficiency of websites and marketing campaigns. This award-winning company specializes in transforming brands and growing businesses. Services include media design analysis, touch point planning, media activation, ecommerce strategies, web applications and content development. Huge Inc. is located in New York City.
10 Best Design consists of professionals who have years of experience in web development, branding and marketing. Each of the professionals who are a part of 10 Best Design has a keen understanding of the factors that make web designers great.
For more information about the June awards, please visit http://www.10bestdesign.com.