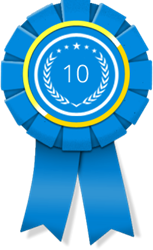 NEW YORK, N.Y. (PRWEB) June 29, 2015
Committed to helping businesses connect with top-placed web design firms, 10 Best Design recently announced the results of its 10 Best Web Design Firm awards. The following top three companies were recognized for providing the best possible service in varying categories to its clients: Big Drop Inc., Blue Fountain Media, and Maxburst.
Taking the coveted first-place spot as a leading web design firm is New York's Big Drop Inc., noted for its diverse solutions primarily based on open source technology, as well as its offering of solutions such as Drupal platforms for corporate client demands. Focusing on exceeding customer expectations to deliver "top-quality online experiences," New York City's Big Drop Inc. prides itself on creating these "digital experiences" rather than mere websites to communicate the benefits of a particular brand. Big Drop was recognized, in part, for the way it gets to know their clients and the products they offer, using in-depth research and analysis to discover unique opportunities and to ensure they are on the same page as the client.
Landing in second place was Blue Fountain Media, also headquartered in New York City, recognized by 10 Best Design for the quality of its work and its service offerings in a total of four different categories: website and mobile development, strategy and consulting, online marketing and creative design. Further, as a top website development company, Blue Fountain Media operates from a perspective that suggests clients can always make improvements in the areas of branding and advertising.
Coming in third place was Maxburst of Farmingdale, New York, a website design agency proud to be doing business in the Long Island suburb just outside the hustle and bustle of Manhattan. The company creates graphics and marketing campaigns heavily influenced by the culture of downtown New York City. Maxburst was recognized as a premier web design firm by 10 Best Design for its expertise in banners, headers and other animation.
Landing in places four through 10, respectively, were Washington D.C.'s Old City Press; Portland's Oregon's Forix Web Design; Paramus, New Jersey's Dotcomweavers; Great Neck, New York's Dotlogics; Chicago, Illinois' Kohactive; Atlanta, Georgia's The Creative Momentum and Hoboken, New Jersey's Inflexion Interactive.
Ranking order for the awards was based on a range of qualitative and quantitative variables, including the payment of monthly listing fees to be in 10 Best Design's directory.