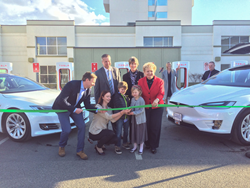 Current Taxi shares our sustainability vision in addition to our commitment to exceeding customer expectations in product quality and service excellence.
KELOWNA, BC (PRWEB) March 28, 2017
When the founder of British Columbia's first all-electric taxi fleet was preparing the launch of his Tesla service, he knew exactly where he wanted to host the launch: outside the internationally recognized environmental award-winning green Kelowna hotel with Tesla Supercharger stations.
"From Day 1, we really wanted to hold it here," says Dale Conway, owner of Current Taxi, which transports passengers in its eco-friendly fleet of Tesla cars. "This Best Western has long been known for its sustainability and that's what drew us to this hotel—for both the launch and our corporate office."
Current Taxi's February launch event was attended by several local journalists, and included demo rides outside the hotel, where the local company's corporate office is located, and from which the Teslas await their next fare.
Brenda Rayburn, Director of Sales & Marketing at the Best Western Plus Kelowna Hotel & Suites, says, "Because of the alignment of company visions, values and sustainability goals, and the fact the hotel has multiple EV charging stations, including the Tesla Supercharger stations, we think it's a perfect fit. We're excited we can now offer guests an eco-friendly alternative for taxi transportation."
"Our environmental mission statement is to do everything economically feasible to keep our air, water and earth safe and clean for future generations. Current Taxi shares our sustainability vision in addition to our commitment to exceeding customer expectations in product quality and service excellence. They are the real deal and we are very excited for them," says Rayburn
As one article about the Current Taxi launch event explains, the service is about more than just getting people to their destination.
"We're recognized as a taxi service, but we provide customer service first. Why not have a pleasant drive along the way?" says Conway, adding by the time hotel guests arrive at the airport, "Many are pre-booking rides for when they come back."
For guests with needs outside the Kelowna airport shuttle schedule, Current Taxi offers another choice that's fast, green, and, to the surprise of many, the same price as regular taxis. Plus, passengers can book their ride using Current Taxi's app.
"Everything about their service translates into benefits for their riders," says Rayburn. "Having Current Taxi here is a tremendous alternative in taxi transportation not just for our guests, but also for all of Kelowna."
One of the taxi company's first customers, David Garzon, was visiting Kelowna on business when he booked his Current Taxi ride back to the airport.
"Current Taxi is a great initiative by brave entrepreneurs who want to deviate from the status quo and care about the future of our planet," says Garzon. "Dale and the people behind Current Taxi check all the boxes on what you expect from a cab service: punctuality, great customer service, safety, and they also go a step beyond by using fully electric cars that help protect our environment."
About Best Western Plus Kelowna Hotel & Suites
The Best Western Plus Kelowna Hotel & Suites has been offering guests a convenient launching pad to all there is to enjoy in the Okanagan. The Best Western's amenities and extras include fibre optic Internet, a mineral pool, hot tubs, free hot breakfast buffet, fitness centre, spa and pub, Kelowna airport shuttle and more. With dozens of eco-tourism awards and a LEED Silver environmental wing as well as a sprawling, grassy courtyard surrounding its 176 rooms, this Best Western Plus has become one of the most popular 'green' and pet-friendly Kelowna hotels.
For more information, please contact:
Brenda Rayburn
Director of Sales & Marketing
1-250-979-6905
brenda[at]bwkelowna[dot]com
http://www.bestwesternkelownahotel.com