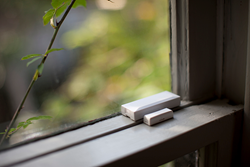 Door and window sensors are an important feature of wireless security systems. These types of sensors will alert homeowners if any door or window is opened anywhere in the house.
Seattle, Washington (PRWEB) February 23, 2014
The key to a truly safe and secure home lies in the security of the doors and windows. Homeowners should secure these entry points as well as possible, and any home security systems should include components that specifically address these areas.
Door and window sensors are great wireless home security systems additions that make sure a home is as secure as is possible. The team at SecuritySystemReviews.com, a site that provides wireless home security system reviews, has created a list of tips to help people when selecting and installing these devices.
1. Before purchasing any sensors, it's important to understand how they work. Many consumers wrongly believe a standard security system protects these areas, but that's an incorrect assumption. Door and window sensors are placed directly on the entry point, and an electrical current indicates if the door or window is disturbed or opened.
2. The most expensive option for door and window sensors is a surface contact option, but it's also important to note that these are very visible, which may not be the best option for someone concerned with the aesthetic appeal of the sensor.
3. For consumers who want to opt for more expensive and less visible sensors, the best option may be to only arm the doors and windows that are easily accessible, and exclude those that don't pose as much of a threat, such as second floor windows.
4. For the option to arm an open window, the only choice for a sensor is a vented option, which means two magnets are used to allow a window to be opened a few inches before the alarm is sounded or the monitoring company is alerted.
5. To save money, speak with a security system company about packages that include sensors as part of comprehensive wireless home security systems. This may be a less expensive option than purchasing all the sensors separately, and many companies will include installation with the package.
6. Consumers should understand the difference between a basic open and close window or door sensor, and a glass break sensor. A glass break sensor is different and may be used in combination with a sensor that alerts if a window or door is opened or closed.
7. Before choosing a security system company, check to see if they offer complimentary maintenance services, in case something goes wrong with a sensor.
About SecuritySystemReviews.com
Security System Reviews is a leader in providing consumers with independent and unbiased reviews and rankings of top security systems and companies throughout the U.S. From Washington security systems to Vermont security systems, consumers can visit the site and find valuable information in one, user-friendly location.