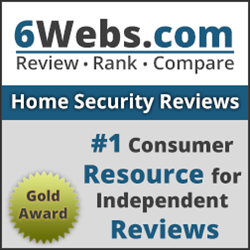 Compare the leading wireless home security systems with security monitoring services online at 6Webs.
Washington, D.C. (PRWEB) January 20, 2014
6Webs.com, the leading security reviews website, released their picks for the best wireless home security system with monitoring services. Wireless home security systems are becoming increasingly popular in recent years because they are portable, easy to expand and simple to install and configure. To view the top ranked wireless home security systems and the companies that provide security monitoring services, visit 6Webs.com at:
Wireless Home Security System Reviews – 6Webs.com
In a recent statement from Tim Smythe, the spokesperson for 6Webs.com, "Each year the security experts team at 6Webs.com reviews of dozens of home security system companies. Most of those companies offer a wireless solution for their customers and this ends up being a big part of the reviews process. Customers prefer wireless home security systems as they are easy to install and do not require running wires throughout the home behind the drywall. The technology used to communicate to the various home security sensors is the same as a wireless network inside of most homes today. It's a technology that most consumers are already familiar with."
FrontPoint Security and Protect America are two of the leading home security companies that offer a top rated wireless security system according to 6Webs.com. To see how these companies compare side-by-side, please visit 6Webs.com at:
http://www.6webs.com/home-security-systems-reviews/
About 6Webs.com
6Webs.com is an independent home security system reviews website that offers an unbiased look at the latest home security monitoring services available in the market today. Each year the professional staff at 6Webs.com conducts reviews based off of a 14-point rating system and publishes the results on their website. In addition to conducting the annual home security reviews, the staff at 6Webs.com also publishes home safety articles on their blog to help consumers to lead a safer and more secure lifestyle.