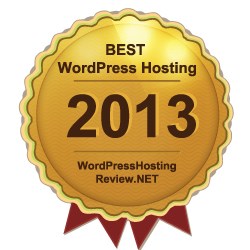 San Francisco, CA (PRWEB) November 08, 2013
WordPressHostingReview.NET, a leading resource for professional WordPress hosting product and service reviews and ratings, today announced BlueHost as the award winner of the best WordPress hosting in 2013 and offered detailed insights into how the company's service keeps WordPress sites running in an optimized web hosting environment that is stable, secure, and fast.
WordPress is currently the most popular blogging software and content management system on which approximately 18.9% of the world's top million websites are based. It is a rare application coming with a good combination of easy user experience and complicated features required by web developers.
A web hosting platform is a necessity for running WordPress, and the quality of the platform has direct influences on WordPress sites' security, performance and search engine optimization. However, due to the availability of thousands of WordPress hosting services, it is not an easy job for WordPress users, especially beginners, to select a right one.
To check the service quality, WordPressHostingReview.NET has carried out dozens of reviews based on a series of criteria including WordPress compatibility, installation service, web hosting features, reliability, speed, security, technical support, and price.
As introduced, the reason why BlueHost receives the award is that this company has offered an optimized WordPress hosting service that has advantages in all the aspects.
With 10 years' active development, BlueHost WordPress hosting service now includes unlimited disk space, bandwidth and MySQL databases. Free guided site transfer is available for customers with existing websites on other web hosting platforms or blogging platforms like Blogger, Tumblr and WordPress.com.
With SimpleScripts, a 1-click script installer, the service from BlueHost allows customers to install WordPress with several clicks, enabling them to have a WordPress site up and running in seconds. The installer can also automate the update of WordPress.
BlueHost offers all customers with cPanel, the #1 control panel with a graphic interface in which customers are able to manage website files, enhance security, view website statistics, manage domains and databases, and upgrade web hosting plans. The billing information is also included.
To get WordPress users backed, the company provides around-the-clock technical support with hundreds of representatives having professional knowledge in WordPress. Besides giving assistance on resolving technical problems, the support team also does WordPress themes installation on request. The guaranteed response time for support requests via live chat and phone is 30 seconds, and that for emails and tickets is 15 minutes.
The price of BlueHost WordPress hosting plan starts from $3.95/mo for new customers subscribing through this unique discount link. Being affordable at this low rate, the plan includes 1 free domain name, $100 Google AdWords credits, $50 Twitter ads credits, and $50 Facebook ads credits.
BlueHost keeps an anytime money back guarantee. If for any reasons customers find that the WordPress hosting service fails to meet their needs, they are entitled to ask for a refund at any time.
"Among all the web hosts we have reviewed since establishment, BlueHost has been the most outstanding one in helping WordPress users create fast and high quality websites that are easy to manage. The company deserves to be recommended," said Joyce Liu, the founder of WordPressHostingReview.NET.
Follow this link to read more about the ranking of WordPress web hosting providers.
About WordPressHostingReview.NET
Specialized in WordPress hosting review and rating, WordPressHostingReview.NET has been introducing WordPress hosting services based on comprehensive reviews and customer feedbacks to help WordPress users including bloggers find high quality services to achieve a quicker success for their sites.