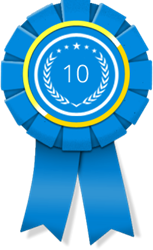 New York, NY (PRWEB) February 17, 2016
Recently, 10 Best Design announced the February winners of the Best WordPress Web Design Firm awards. This is a new monthly award that is being handed out to the best of the best in a field known as WordPress web development.
There are a lot of great WordPress Web Design firms out there, 10BestDesign decided the recipient of the #1 spot deserved to go to New York, N.Y.-based. Big Drop Inc. As a leading WordPress web design company, Big Drop Inc creates and develops completely custom websites through content management systems, tailored to fit the specific needs of each client. One of the things that sets Big Drop Inc apart from competitors is its commitment to provide plenty of technical assistance and help to clients who have yet to launch a website in order to attract more local clients. Big Drop Inc knows how to incorporate e-commerce WordPress features such as inserting product listings right into blog posts, for example, perhaps better than anyone. For these and other reasons, the title of Top WordPress Web Design Company is certainly well deserved for this firm.
The second spot for the February award was given to another top WordPress web design firm, Blue Fountain Media. The principal hub of the company is located in the heart of Manhattan in New York City. When it comes to creating functional, ascetically pleasing, affordable websites for local customers, the staff at Blue Fountain Media use one of the most popular and well-regarded content management systems available today. The firm prides itself on having extensive experience with managing both the front and back ends of CMS platforms that support anything from blogs to online stores.
Coming in at the number three spot on the list of best WordPress web design firms is Maxburst. This organization is a business that serves a sophisticated and specialized Web design clientele, and it has managed to establish some fairly deep roots in Long Island, New York. No matter what kind of project is taken on, Maxburst can apply WordPress to quickly create a beautiful looking, fully functional website that meets and exceeds its client's expectations.
10BestDesign is a team based in San Francisco, California, and it is made up of individuals from around the country who are experts in online branding, web development and web design. With many years of experience working with technologies including PHP, CSS, JS, and HTML, and extensive knowledge of online branding and SEO, the opinions of 10BestDesign can be counted on.
For more information, visit http://www.10bestdesign.com.