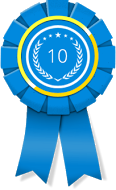 NEW YORK, N.Y. (PRWEB) December 14, 2016
10 Best Design is pleased to announce the winners of its 10 Best WordPress Web Design Firm awards for December 2016, with Big Drop Inc taking the top honor.
Most brands with even a hint of digital knowledge probably are aware that WordPress is one of the most popular and powerful options for creating personalized websites. Designers who use WordPress have much more freedom to craft stunning web platforms, and new designers can even take advantage of the ease of utility that comes standard with the system. However, with so many options out there for firms that can develop WordPress sites, how can brands know which ones are the best options? 10 Best Design hopes to make it easier by releasing a monthly list that ranks the best firms.
10 Best Design wants to bring transparency to the industry of WordPress web design, so they use a complicated system of comparing the best firms using a number of specific metrics that can be compared across all the top contenders. The results are published at the start of every month, and the December of 2016 winners were recently announced. The list of all 10 winners can be seen online, and the top three winners from the list are outlined below.
Big Drop Inc is the best WordPress web design business for the month of December. Big Drop Inc, a New York City-based web design firm that offers a number of other premium digital marketing services. WordPress is one of the most commonly used web systems for the engineers and designers at Big Drop Inc, so they have the experience necessary to craft stunning environments completely from scratch.
Second on the list of leading WordPress website design companies for the month of December in 2016 is Blue Fountain Media. One of the most trusted names in the entire digital marketing industry, the company is highly adept at creating WordPress sites that are designed for mobile platforms, extreme functionality, and maximum customer engagement. They also offer comprehensive video production, consulting, and analytics.
Maxburst is a leading WordPress web design firm that took third place on the December list. There are few WordPress design agencies that have the same skill and experience as Maxburst. They are incredibly popular and affordable, and their sites can be fully customized to meet the individual needs of their clients. Not only that, Maxburst can help their clients determine what sort of WordPress plan is best for them.
For more information about the winners of the December award, visit http://www.10bestdesign.com.