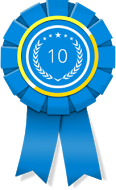 NEW YORK, N.Y. (PRWEB) October 25, 2016
10 Best Design recently unveiled the top ten winners of the Best WordPress Web Design Firm awards. The top three winners in this category for October 2016 are Big Drop Inc, Blue Fountain Media and Maxburst.
10 Best Design is a leading source of reviews and ranking for design firms in 11 different categories. This latest award recognizes outstanding design achievement for websites that use the popular WordPress content management system (CMS) platform.
The best web design companies are selected based on excellence in their field. 10 Best Design collects information on each company, including client research, online research, reviews, previous accolades, traffic and other SEO rankings. Then a review team of experts analyzes the data and finalizes the list of winners for each month.
10 Best Design's top WordPress web design agency is Big Drop Inc. The New York-based firm develops custom websites for clients and also provides ongoing technical support. Big Drop Inc works closely with clients to create websites that offer a winning blend of creativity and technology. President Garry Kanfer said, "Big Drop is a trusted partner with clients and is committed to helping businesses grow." Recent projects include web design work for Salmon Litigation Consulting, Instantmacro and Sevva Home Luxuries. In addition to web design, Big Drop Inc also offers branding, marketing and animated videos.
The second-place winner among the top WordPress web design agencies is another New York firm: Blue Fountain Media. This digital agency is focused on helping brands to grow online. The Blue Mountain Media team is committed to helping clients achieve increased online traffic, new business leads and increased brand loyalty. According to Blue Mountain Media CEO and Founder Gabriel Shaoolian, Blue Mountain delivers measurable solutions to client's business goals. Blue Mountain's high-profile client roster includes AT&T, NASA and Walt Disney.
Coming in third as a leading WordPress web design firm is Maxburst, a Farmingdale, New York-based digital agency. Maxburst specializes in custom, interactive website design and development. Clients benefit from consistent quality and the ease of working with a single vendor. Maxburst Co-Founder and Lead Technology Coordinator Andrew Ruditser said, "At Maxburst, a team of experts blend proprietary methodologies and innovative approaches to deliver exceptional results." Maxburst's clients include Canon, Stony Brook University and Garage Tek.
To learn more about 10 Best Design and all of the winning firms, visit the website: 10bestdesign.com/firms/wordpress.