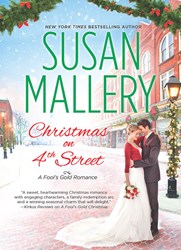 Christmas on 4th Street is a holiday love story in the tradition of Love Actually, The Holiday, and It's a Wonderful Life.
Seattle, WA (PRWEB) September 19, 2013
The Editors at Amazon.com have recognized Christmas on 4th Street, a Fool's Gold romance novel by Seattle author Susan Mallery, as a Best Book of the Month for October 2013. This is the fourth time this year that one of Mallery's books has been honored as a Best Book of the Month. Three Sisters was named to the Best Books of the Month list in April, Two of a Kind was named in July, and Three Little Words was named in August. Three Sisters was further honored in June on Amazon's Best Books of the Year (So Far) list in the romance novel category.
"I'm humbled by the accolades my books have received this year," Mallery says. "Writing is such a solitary activity. It's just me, alone at my desk, transcribing the stories in my head. I never know while I'm writing whether readers will love the characters as much as I do, whether what I'm feeling will translate to the page."
In Christmas on 4th Street, Gabriel Boylan, a trauma doctor on leave from the Army, is visiting his twin brother in quaint, quirky Fool's Gold, California, the setting of Mallery's most popular series of romance novels. The twins' parents are also visiting, including a drill sergeant father with whom Gabriel has always had a tense relationship. Which is why Gabriel volunteers to help Noelle Perkins, owner of The Christmas Attic, with the holiday rush when her temporary employees take off.
Noelle and Gabriel have each faced death, but they took away very different lessons from the experience. Noelle learned to live every moment fully, to take risks, and to grab love when it comes. Gabriel, on the other hand, learned that life could be taken away at any moment, capriciously, which made him unwilling to risk falling in love.
Told against the backdrop of Christmas in an idyllic mountain town, Christmas on 4th Street is a holiday love story in the tradition of Love Actually, The Holiday, and It's a Wonderful Life. RT Book Reviews Magazine selected it as a Top Pick for the month and calls it, "Another of Mallery's patented mood elevators."
Christmas on 4th Street will be available in gift-sized hardcover, ebook, and audiobook on September 24, both online and in stores nationwide. To read a free excerpt, visit http://www.SusanMallery.com.
About Susan Mallery:
With more than 25 million books sold worldwide, New York Times bestselling author Susan Mallery is known for creating characters who feel as real as the folks next door, and for putting them into emotional, often funny situations readers recognize from their own lives. Susan's books have made Booklist's Top 10 Romances list in four out of five consecutive years. RT Book Reviews says, "When it comes to heartfelt contemporary romance, Mallery is in a class by herself." With her popular, ongoing Fool's Gold series, Susan has reached new heights on the bestsellers lists and has won the hearts of countless new fans.
Susan grew up in southern California, moved so many times that her friends stopped writing her address in pen, and now has settled in Seattle with her husband and the most delightfully spoiled little dog who ever lived. Visit Susan online at http://www.SusanMallery.com.