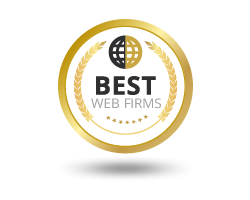 We have been very fortunate to receive the awards that we have recently. Of course, we're extremely happy about that. - Gil Datz, Founder UZU Media
(PRWEB) September 22, 2015
BestWebFirms has announced the top ten best web design companies using groundbreaking design and review techniques in September 2015. Webimax, known as one of the best 100 advertising and marketing agencies nationally, tops the list as the best web design agency, followed by MonkeyCoders and Raincross Marketing. All companies chosen use the very latest technological savvy to significantly transform a client's online presence, drive traffic flow and up conversion rates.
Webimax uses a revolutionary tracking and analytics system centered in the Webimax Client Center, which lets clients see real-time traffic sources, rank improvements, and other analytics. As a top web design company, Webimax is comprised of a seasoned team of 100 employees who excel at devising and managing custom SEO strategies. The Center provides unrivaled industry transparency, allowing customers to track milestone and online visibility efforts in an innovative and interactive fashion designed to change the face of Internet marketing.
Following just behind Webimax at number two on the list, Monkey Coders is a cutting edge web development company that serves small to medium-sized companies using the expertise of a nationally recognized creative agency. Monkey Coders provides eye-catching websites, logos, online eCommerce, and other services. Highly budget-conscious, Monkey Coders offers affordable services that fit the financial needs of small to mid-size communities.
The third best web development company in September 2015, Raincross Marketing uses the very latest eCommerce tactics to optimize local searching. Their ingenious, proven methods fuel directory building systems and monthly data analyzing the effectiveness of local search promotions. Raincross Marketing also provides social media and content marketing as well as website design and development packages.
Fourth on the list, Huemor prides itself on incorporating the newest technology and trends in their work. The dedicated Huemor team are experts at creating and integrating websites that truly reflect the mission of their clients.
Other design companies securing a coveted position on the top ten list include:
5. Triple Internet Solutions
6. Brandnative
7. Webvanta
8. DBurns Design
9. Sumato Soft
10. One Design Company
Rankings are determined by an independent review of quality factors such as diverse technical knowledge, business savvy, originality, turn-around time, and customer satisfaction. The list can be viewed at http://www.bestwebfirms.com/best-web-design-companies.
In order to develop a curated list of the best design agencies, Best Web Firms uses a proprietary ranking system involving online and review research, client case studies, traffic reviews, SEO rankings, relevant awards, and other sources of information. The Best Web Firm Investigative Review includes international professionals who have extensive experience in web design and development as well as online branding and multiple coding languages.
For responsive web design companies at the forefront of the technological vanguard, look no further than BestWebFirms.com.