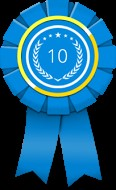 NEW YORK (PRWEB) September 11, 2019
10 Best Design is honored to present the winners of its Best eCommerce Web Design Firm awards for August 2019, selecting Ruckus Marketing as the leader in this category.
This award is significant due to the importance of eCommerce web design in the marketplace. Almost all consumers shop online for routine as well as special purchases. Whether they are on a website to place their takeout order for dinner or they are shopping online for a major planned purchase, they have certain expectations of the site. They want it to be secure. It should also be easy to navigate, and customers should be able to complete a transaction with efficiency. Business owners need to choose the best eCommerce web design firm in order to accomplish this. To help business owners make the right decision, the 10 Best Design site has created a monthly award for the top eCommerce web design company.
Business owners looking for top eCommerce web design companies that can generate plenty of repeat customers should consider at Ruckus Marketing. Located in New York City, Ruckus Marketing works with many small and medium-sized businesses across different niches. They create a user experience that ensures that transactions are completed quickly. Site users feel confident about entering their financial data. Ruckus Marketing offers eCommerce setups that can handle heavy traffic loads, such as when a retail shop offers a special Black Friday deal or a flash sale that gets plentiful customer visits.
Another award-winning firm to consider is Blue Fountain Media, a leading eCommerce web design firm based in New York City. This is a larger firm, and it can set up an eCommerce site on just about any platform. Their wide range of services means that a client can have one-stop shopping for all of their website needs. Blue Fountain Media has attained an astonishing 99 percent customer satisfaction level.
Use All Five, a top eCommerce web design agency in Los Angeles, CA, also earned a spot on the top 10 list for August. Use All Five provides its clients with secure eCommerce sites that give the consumer a lot of confidence about submitting their information and conducting a transaction. Use All Five focuses on the customer service experience for their clients and the customers of their clients. In addition, they can scale up a site as needed.
This is a new monthly award in the eCommerce web design firm category. People who think they may need an eCommerce setup should visit the website regularly in order to see which firms earn a spot on next month's list.
For more information about the winning companies for August, visit http://www.10bestdesign.com.