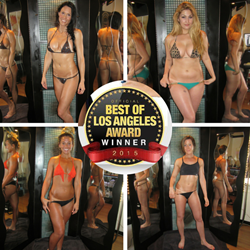 I also take this opportunity to thank the Best of Los Angeles community for selecting my airbrush tanning salon as the Best of Los Angeles
Los Angeles, CA (PRWEB) September 22, 2015
Simone's Airbrush Tanning proudly announces that her popular airbrush tanning salon has been chosen this year as the winner of the coveted Best of Los Angeles Award for the category of airbrush tanning. Owned and managed by experienced airbrush tanning expert Simone Emmons, this salon offers custom spray tanning sessions as well as mobile airbrush tanning services to the home or office covering a wide area surrounding Los Angeles. Over the years, Simone has served some of the most popular Hollywood superstars, models, fitness professionals, and celebrities with her highly acclaimed airbrush tanning services.
Best of Los Angeles Award is presented every year by a community of over two thousand Los Angeles professionals to honor the most extraordinary local businesses and individuals serving this region with distinction. This year, over one hundred recipients were selected for this award in various categories. You can view all the selected winners by visiting https://www.facebook.com/BestofLosAngelesAwards
Expressing her delight about the latest feat achieved by Simone's Airbrush Tanning, Simone Emmons stated, "This is certainly great news for me and this recognition will inspire me to continue the good work. I also take this opportunity to thank the Best of Los Angeles community for selecting my airbrush tanning salon as the Best of Los Angeles."
In addition to offering state-of-the airbrush tanning services, Simone has been deeply engaged in building nationwide awareness about sunless tanning, the healthier alternative to tanning beds and laying out in the sun. She is also the owner and chief instructor of a reputed airbrush tanning training school named Hollywood Airbrush Tanning Academy and has personally trained over 300 students from all over the world to start their own airbrush tanning business. In this academy, Simone offers hands-on spray tanning training to the aspiring airbrush tanning technicians. Other than the intricacies of spray tanning, Simone's students also receive all types of marketing and branding support to launch their own independent business.
To book an appointment for a spray tan with Simone Emmons, please call or text Simone's Airbrush Tanning at (818) 674-9621.
About Simone's Airbrush Tanning:
Simone's Airbrush Tanning is a custom airbrush tanning salon located in Los Angeles in the neighbourhood of Studio City, California. In addition to in studio spray tanning sessions, Simone's Airbrush Tanning also provides mobile airbrush tanning services in Los Angeles, specifically in the San Fernando Valley and areas such as Sherman Oaks, North Hollywood, Toluca Lake & West Toluca Lake, Universal City, Studio City, Hollywood Hills, Encino, Valley Village, Burbank, Glendale, Van Nuys, Tarzana, Woodland Hills. Simone also offers her service for spray tanning parties and bodybuilder competition tanning. Simone Emmons is a certified spray tanning technician and also the founder and chief trainer of the Hollywood Airbrush Tanning Academy.