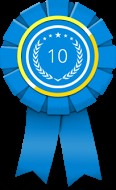 LOS ANGELES (PRWEB) April 24, 2019
10 Best Design recently selected the April 2019 winners of its Best Responsive Web Design Firm awards category. This month's winners are Spinx Digital, Blue Fountain Media and Ruckus Marketing, which are all highly reputable agencies.
More than 75 percent of internet browsing takes place on smartphones in 2019, and that number is expected to continue to increase. People are turning away from desktop and laptop computers in favor of mobile devices such as tablets and phones that are more portable. Websites that were built a few years ago may not be responsive to the mobile browsers. The result could be a site that takes too long to load, images that do not display properly or text that is too large for the screen. Working with the top responsive web design firm is the ideal way to upgrade an existing site or build a new one that will perform well on mobile technology. There are a lot of responsive web design firms out there, and finding the best one for the task could be a challenge. Any business owner can refer to this list of the best responsive web design firm options.
One company that topped this month's list of best responsive web design firms is Spinx Digital, which is located in Los Angeles. This firm's associates use cross-platform technology in their responsive designs. The result is a site that is easy to navigate on all devices and all browsers. The associates at Spinx Digital also build eCommerce into their responsive site designs, ensuring that business owners can make sales to consumers who have smartphones.
Another top-performing firm this month is Blue Fountain Media, a top responsive web design agency based in New York. Despite its location, the firm has an affordable hourly rate for its web design services. As a large firm, it offers a full spectrum of services. A business owner that wants responsive design paired with eCommerce or SEO will have a successful project when they choose to work with Blue Fountain Media.
Lastly, Ruckus Marketing also earned recognition for its work as a responsive web design firm. With its headquarters in New York City, Ruckus Marketing offers responsive web designs that have a full array of features. Being a top responsive web design firm, Ruckus Marketing can implement easy video browsing as well as interactive features. Their sites deliver a great user experience to each consumer.
This is a brand-new monthly list implemented by 10 Best Design. It will be updated every month, so come back soon in order to see which firms make the cut next time.
For more information about the winning firms for April 2019, visit http://www.10bestdesign.com.