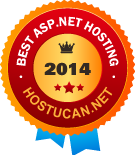 2014 Best ASP.NET Hosting
(PRWEB) April 14, 2014
Professional web hosting review and search site HostUcan.net recently announced the winners of the 2014 best ASP.NET hosting award, all of which are reliable companies reviewed and tested to be excellent in reputation, price value, features, performance and technical support.
According to the overall performance of all the reviewed web hosts, DiscountASP.NET had surpassed all the competitors based on all the points mentioned above. To know all the customer reviews of DiscountASP.NET, please visit http://www.hostucan.net/company/discountasp.
DiscountASP.NET was founded in 2003 in California, US and is a Microsoft Golden hosting partner that's offered affordable ASP.NET hosting plans for many years. DiscountASP.NET has become an important resource for high-value and cutting-edge hosting solutions. The company also focuses their resources on needs by ASP.NET Windows's developers.
ASP.NET is the latest technology from Microsoft, in which was first release back in 2002 and now has become one of the most popular programming languages within web developer world. With ASP.NET, developers can build dynamic websites and XML Web services productively.
As being one of the Microsoft Gold Hosting Competency Status, DiscountASP.NET also include features like Isolated Application Pool, IIS full trust, MSSQL, MySQL, ASP.NET Control Panel, Unique domain name, 1000MB Disk Space, unlimited FTP, 80GB monthly transfer, IIS manager, node.js, FTP over SSL, PHP 5, FastCGI, 1-click installation of .NET/PHP applications and more.
Besides this, DiscountASP.NET provides their users a wide range of important ASP.NET frameworks which include the basic ASP.NET 2.0/3.5/4.0/4.5.1AJAX, MVC, Silverlight hosting, URL rewrite module, and tons of ASP component libraries. All of these frameworks enable users to have a high level of flexibility and avoid compatible issue.
Performance is a key factor and DiscountASP.NET employs some of the latest cutting-edge technology. Their World-class data centers utilize utilizes 100% DELL servers with 4x Intel XEON CPUs, 64GB RAM, RAID 10, Cisco Enterprise switches, and internet connection with bandwidth over 1000 Mbits. Besides this, DiscountASP.NET uses multiple Tier 1 telecom providers to provide faster speed and better reliability of the Internet connection.
DiscountASP.NET offers affordable pricing for ASP.NET hosting at $10.00/month, but now customers can get 50% off through this Special DiscountASP.NET Hosting Promotion Link, all new customers will only pay $5.00/month. In addition, DiscountASP.NET has a 30 day money back guarantee so customers can ask for a full refund within 30 days and get a pro-rated refund at any time.
DiscountASP.NET customer support team acknowledges the needs of their customers. The company provides their customers 24/7/365 support via email and their support portal. With hundreds of experts and professional that have knowledge of ASP.NET, DiscountASP.NET support team is very talented with excellent experience to answer any complicated ASP.NET questions and queries.
HostUcan.net is a global leader in web hosting review and website, which ensures visitors to find web hosting solution best suited for their needs. This is done by HostUcan's Needs Oriented Search Engine which is built on the analysis customer review reports. People could find the complete list of top ASP.NET hosting at http://www.hostucan.net/group/aspnet-hosting.