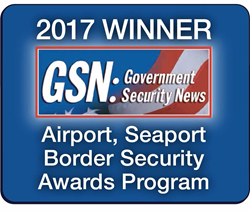 We plan to implement the Metis Secure system throughout our campus to inform and protect our students, faculty, staff and visitors wherever they are. Bill Cameron VP of Operations Point Park University
Chatham, New Jersey (PRWEB) July 17, 2017
Today Metis Secure Solutions, a wholly owned subsidiary of Desktop Alert Inc. announced that the company has been selected as winner for Best Emergency Beacon System in the Government Security News 2017 Airport, Seaport, Border Security Awards Program. Metis Help Stations provide the following critical emergency communications capabilities:
Instant, Actionable Emergency Alerts and Instructions:
The Help Stations act as multi-modal alerting stations in a crisis, allowing the school's emergency teams to instantly broadcast emergency voice instructions to everyone in the building. The instructions simultaneously appear in text on the Help Stations' built-in LCD screens, and the stations also sound sirens and flash lights for urgency.
Location-Identified Emergency Help Calls:
If anyone in the building needs emergency help, or needs to report a potentially dangerous situation, the Help Stations provide a direct line to medical school police and public safety dispatchers. Callers simply press the Help button on any Help Station to be rapidly connected to a campus police dispatcher. Once the call connects, they can speak hands-free to the dispatcher and report the problem. The system will instantly and automatically display the call location on an on-screen map in the police department— this allows responders to reach people with maximum speed if emergency assistance is needed.
Comprehensive Emergency Protection:
The Metis Secure system will augment the medical school's email/text provider, which delivers emergency messages to subscribers' mobile phone. In addition, when activated, the Metis system will simultaneously push emergency alerts to the school's digital signs. Research shows that the most effective emergency communications systems deliver alerts and instructions via multiple channels, to help ensure that everyone is alerted and knows what to do. The advanced Metis Secure emergency system supports the medical school's goal to provide a safe and secure environment for everyone on site. The school plans to roll out the Metis Secure system to the rest of campus over several future phases.
"We selected Metis Secure because we were impressed with the speed and effectiveness of the solution and wanted one single emergency notification platform. We plan to implement the Metis Secure system throughout our campus to inform and protect our students, faculty, staff and visitors wherever they are." Bill Cameron, VP of Operations, Point Park University
About Desktop Alert https://www.desktopalert.net
Desktop Alert is a leading provider of enterprise mass notification and emergency communications to the United States Department of Defense, federal government and First-Responders around the world. Its innovative and patented software has been internationally recognized as a "Best Mass Notification" and "Best First Responder Interoperable Communications" system. Desktop Alert provides a suite of scalable, flexible, and adaptable communication, collaboration, and situational awareness tools in environments ranging from austere - no terrestrial infrastructure support - to fully modern with extensive IP and legacy system integrations. Desktop Alert optimizes the communications flow with timely, accurate information to ensure effective decision making, coordination, proactive community engagement, and public awareness.