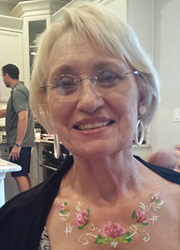 Our Chicago face painters put smiles on faces. Guaranteed.
Chicago, IL (PRWEB) September 21, 2014
Chicago face painter, Ms. Valerie shows how to appeal to groups of all ages for the coming Halloween season. For Glenn David Productions and their face painters, the measure of true talent is being able to appeal to an enormous demographic. To that end, our Chicago face painter shows how to accomplish that reality.
1. Loving what you do is essential. Enthusiasm is as contagious as pessimism. Make certain to exhibit the former.
2. Be flexible. Adapting to different situations, ages, and temperaments is required. Without being able to adapt, everything else falls apart.
3. Know your craft. Face painting is an art and a science. And, it requires ongoing practice and continuing education. The day you think you know it all is the day you should turn in your brushes.
4. Know your client. You have to be able to put yourself in the position of the people across from you. And, you need to give them what they want, not what you want.
5. Address the little things. Few people will get run over by an elephant. But, most people will know how painful it is to be bitten by a mosquito. Make certain the little things don't negatively impact your client.
From implementing these methods, our Chicago face painter strives for perfection. Only a select few can be the best. However, if you are not striving for that ideal, then you may as well do something else.
To inquire about hiring an expert Chicago face painter, contact Glenn David Productions at 1-800-887-3517. For press inquiries or appearances, you can also email us at info(at)bestchicagofacepainting(dot)com.