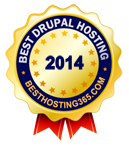 Best Drupal Hosting 2014
San Francisco, CA (PRWEB) March 28, 2014
GreenGeeks, a global leader and of one of the best web hosting providers in the industry, was awarded Best Drupal Hosting 2014 by BestHosting365.com. BestHosting365.com is an industry-leading hosting review website that's operated by a group of web hosting experts.
GreenGeeks is considered the best green hosting provider in North America and is dedicated to providing green shared hosting, VPS hosting and reseller hosting services to millions of web professionals. To learn more about the review from BestHosting365, please check out http://www.besthosting365.com/web-hosting-review/greengeeks.
Drupal is an open source content management system which is powerful and free to use. GreenGeeks indicated that thousands of Drupalers relied on its rock-solid hosting services to run their websites smoothly.
The main reason that GreenGeeks was awarded the Best Drupal Hosting is because of its 100% Drupal compatibility. GreenGeeks exceeds the minimum technical requirements for Drupal, and the solution includes unlimited disk space, unlimited bandwidth, and the latest and secure versions of PHP, MySQL, Apache and 1-Click Installer.
Meanwhile, GreenGeeks offers suPHP feature to help increase security for Drupal sites. GreenGeeks Drupal hosting solution is secured enough to prevent customers' websites from being hacked by the others.
Customers can achieve the best Drupal performance at GreenGeeks because their robust servers are equipped with Intel Dual Quad Core Xeon processors, 24GB DDR3 RAM, large RAID-10 storage arrays and many other advanced features.
The regular price of GreenGeeks Drupal hosting starts from $7.95/mo. However, by following this promotion link, customers now can get 50% off, in which will only cost $3.96/mo. This includes free marketing credits, instant activation and nightly backups.
GreenGeeks technicians are skillful, have high knowledge of Drupal and all of their technicians are in based in the United States. The technical support team can be contacted 24/7 via phone, live chat and email. If customers experience any problems, they will be given fast and effective assistance.
To give customers a sense of risk & worry free, GreenGeeks guarantees 30 days money back guarantee if there are not satisfied with their services. After this first 30 days, customers can receive a prorated refund.
To know the full list of Drupal hosting recommended by BestHosting365.com, please visit http://www.besthosting365.com/best-drupal-web-hosting.