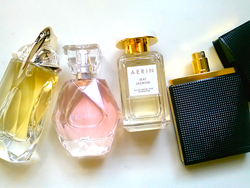 We round-up the hottest new scents for Spring and Summer.
New York, NY (PRWEB) April 29, 2014
With the long, cold Winter behind us, everyone is looking forward to the Spring/Summer season. And what better way to evoke some springtime cheer than by buying a new fragrance to match your celebratory mood. Whether consumers are fans of citrus, musk, wood notes or floral, the BeautyStat.com editorial team was hard at work sniffing and spritzing all of the latest and hottest 2014 fragrance launches just for its readers.
Read on to get to know some of our beauty editors as they clue you in on the top 21 fragrances for Spring/Summer:
"Ralph Lauren releases his newest fragrance, Midnight Romance, in light of all springtime's passionate desires. Pink peony and black vanilla create a modern contradiction, which is fitting due to Ralph Lauren's understanding of feminine sensitivity and beauty that is staged through his world of fashion.
A floriental fragrance, Midnight Romance combines an exhilarating mix of raspberry, jasmine, ambrox and iris absolute. It's a refreshing scent with a heavy undertone of passion, which was conceived since the fragrance's inception." – Ron Robinson, Cosmetic Chemist / BeautyStat.com Founder
"Alien Eau Extraordinaire from the Thierry Mugler Collection was created to transfer the feeling of tranquility and happiness to all women. This refillable bottle emits authority with its curvature design, all while housing the Tiare flower scent, warmed up with white amber for a well-rounded, lingering aroma that is more mature than sprightly. It's definitely the perfect fragrance for the woman who is coming into her own."
"Avon's latest fragrance, Femme, adds a touch of elegance to this sophisticated scent. A combination of jasmine and magnolia are married with the sensual essence of amberwoods and soft peach skin — a truly glamorous and classic scent to be had! The aroma lingers with light florals sprinkled with a sparkling freshness you'll just have to smell for yourself."
"The closet thing to owning a bountiful garden this spring can be found in the Aerin fragrance collection which includes: Gardenia Rattan, Lilac Path, Amber Musk, Ikat Jasmine and Evening Rose. The smooth, earthy stones found on the top of the bottles lend a rawness that encapsulates the essence of these fragrances. Ikat Jasmine has a touch of honeysuckle and sandalwood to balance out the pure floral intensity. Mix and match to create your own aroma bouquet."
"I've always adored Ashley Olsen's style, so it's a no-brainer that her debut fragrance, Elizabeth And James Nirvana Black, is my ultimate springtime pick! Sensual violet, sandalwood and vanilla strike the perfect balance of masculine and feminine — combining all my favorite notes into one perfectly sexy and classic scent I'll be wearing for years to come. And the studded black bottle with gold accents is so cool, just like Ashley." – Theresa Romano, Managing Editor / BeautyStat.com
"I love a fragrance with a story. Especially a story that hasn't even begun yet. Bond No. 9 Hudson Yards is about fresh, new beginnings, with a scent that is a luminous melange of dewy petals piled upon petals.
Top notes of lily of the valley mingle with fresh and innocent freesia and piquant pink peppercorns, while a dewy floral bouquet of peony buds and Bulgarian rose blend well with woodsy-citrusy orange flower, iris absolute and white musk. The chartreuse bottle is absolutely GORGEOUS, along with its matching cloth flower blossom. This is the ultimate spring fragrance for me!"
"I can't choose just one of these affordable scents from Love2Love (#love2lovewalmart) — the private label fragrance collection from Coty Beauty, sold exclusively at Walmart! When I want to feel ultra-girly, I spritz on Orange Blossom White Musk. And when I want to bring out fun-time Diane, a few pumps of Jasmine Sparkling Mimosa does the trick. I'll be packing my nieces' Easter baskets with these fresh scents, and also keep mom in mind for her big day in May." – Diane Rankin, SVP / BeautyStat.com
To see the remaining list of the top scents for the upcoming season, click here >> Best Spring Summer Perfume Fragrances Review.
BeautyStat.com is an online beauty retail platform (that features makeup, skincare and haircare reviews). It has been featured in Women's Wear Daily, LA Times, New York Times, Forbes Magazine, NBC and CBS News. The strength of BeautyStat.com is its captive, engaged and influential 200,000+ community, 190+ blogger network and 40 million social network reach. BeautyStat.com works with beauty brands, retailers and PR agencies to connect them to the BeautyStat community for e-commerce, advertising and rich consumer insights. #bstat